Hackers attack Pussy Riot trial court website
Published time: 21 Aug, 2012 08:49
Edited time: 22 Aug, 2012 13:01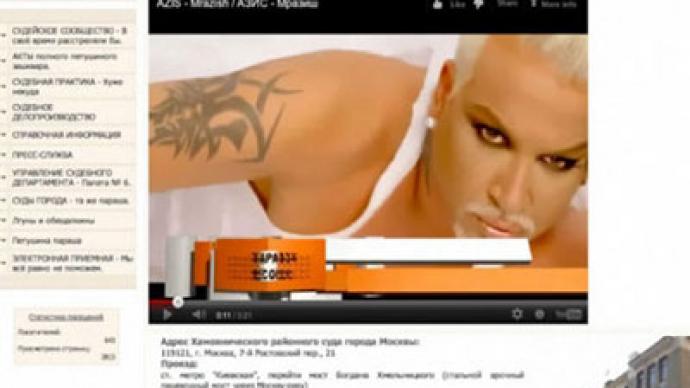 Unidentified hackers broke into the official website of a Moscow court which sentenced three Pussy Riot band members to two years in jail. For some time its front page was defaced with obscenities and video clip of a Bulgarian transvestite singer.
On Tuesday morning, the website of the Khamovnichesky District Court was unavailable for a period, with the only inscription saying it "was under information upload". 
When the site finally became available to users, instead of legal information, it featured a message urging to free the three jailed Pussy Riot members, showed a provocative video clip of controversial Bulgarian transvestite singer Azis, along with some mocking postings.
.
­Right below the clip there was "information on the Khamovnichesky District Court employees' incomes for 2011."

Some of the website sections featured provocative comments attached to the names of the sections. For example, the section "Judicial Community" was extended to "Judicial Community – we'd shoot you dead in due time". 

"Judicial practice" had "could not be worse" next to it, "Online reception" read "we won't help you anyway", and "information" was expanded with "we know all about you."

The section with the contact information on the Moscow's Central District Administration and District Law Enforcement bodies was labeled "Liars and Promisers."

A new song by punk band Pussy Riot called "Putin is Lighting the Fires of the Revolution" was also uploaded to the site.

The site's top right corner, next to Russia's national emblem, displayed the slogan – "No logic – just hardcore."

The activists of the group call themselves "LegionRussia" on Twitter and claim to be part of the international Anonymous hacker network.

Along with the website, the court's email server has also been hacked, with the official correspondence of its staff revealed.On their Twitter account, the hackers have posted the link to a file sharing website with dozens of e-mails.
Most of them are from activists supporting Pussy Riot, but some of the letters contain mailouts for district courts and other official correspondence.
A spokeswoman for the Khamovnichesky District Court Darya Lyakh confirmed that the site had come under a hacker attack early on Tuesday. It has now been restored and is working properly.
A two-year prison term for three of the members of the punk band on charges of "hooliganism motivated by religious hatred" has divided Russian society.

Some are convinced the performers deserve the harsh punishment for their desecration of Russia's main church by turning it into a "punk prayer" venue, thus hurting the feelings of the Orthodox believers.

Others argue it is too severe for a mere punk performance and worry it threatens the right to the freedom of speech and peaceful political protest.

The defense team called the whole trial a "mock proceeding," while foreign media dubbed the process "a theater of the absurd."

The verdict has also sparked protests all over the world with many branding the trial as politically-motivated and saying the sentence was "disproportionate" to the crime.

Screenshot from website hamovnichesky.msk.sudrf.ru The inscription on top reads "Putin's thievish gang is robbing our country! Wake up, comrades!"