Pussy Riot anniversary: Masked activists detained at Moscow cathedral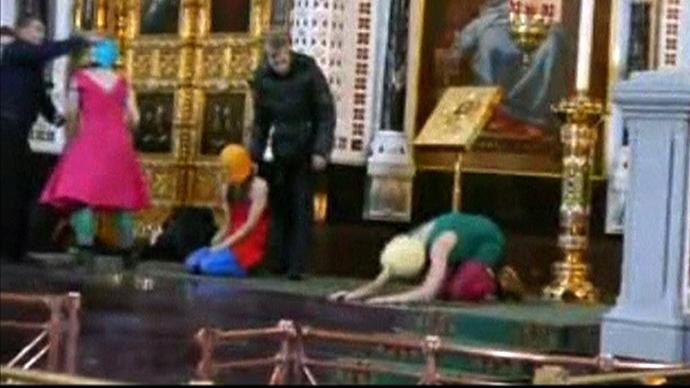 Two women wearing iconic Pussy Riot masks have been detained at Moscow's Christ the Savior Cathedral, police reported. The all-woman band performed their controversial 'punk prayer' there exactly a year ago.
The two detainees were taken to a nearby police station and released soon after, following a crime-preventation counseling session, police said.

The activists are identified as Irina Karatsuba and Elena Volkova, both academics and long-time supporters of Pussy Riot. They say they were detained after laying flowers at the cathedral's soleas, the part of an elevated extension in an Orthodox Christian church that is part of an altar area, but is separated from the restricted altar sanctuary by the iconostasis.

The site was used as a stage for Pussy Riot's infamous performance on February 21, 2012.
"We went to the Christ the Savior cathedral to pray. To pray to Mary. We put on masks, laid down flowers. They unmasked us at once and grabbed us. My colleague almost had her nose torn off. That's the story," historian Karatsuba told the Russian News Service radio via telephone.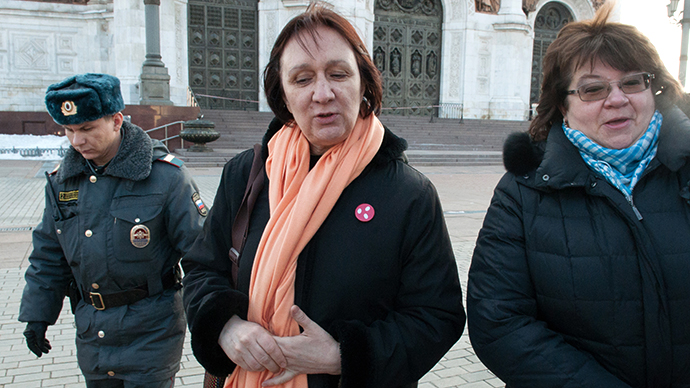 Pussy Riot's so-called punk prayer last year was filmed by members of the band and later used to produce a music video. The footage – along with some other video shot at an earlier action in another church – was voiced over with an anti-clerical politically-loaded song.
After the video attracted public attention, a police investigation was launched. Out of the five members of the band who performed, three were identified and arrested. They were found guilty of "hooliganism inciting religious hatred".
A court sentenced all of them to two years in prison in August 2012 amid much criticism, both in Russia and from other countries, as many people believed the women to be victims of political persecution. There were also many people who believed Pussy Riot to be provocateurs and supported the prosecution as deterrence against similar actions in the future.
A court later reduced the punishment for one of them, who didn't personally step to the soleas, to two years suspended.
The controversial video has scored more than 2.5 million views on YouTube.
You can share this story on social media: