Pussy Riot Appeal Hearing: LIVE UPDATES
Published time: 1 Oct, 2012 07:11
Edited time: 1 Oct, 2012 12:33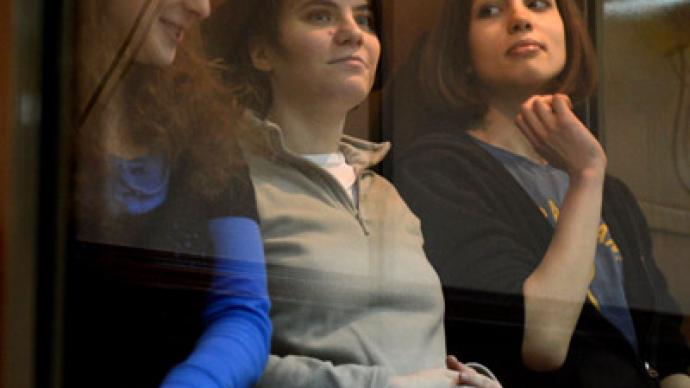 A Moscow court is starting its hearing of an appeal by the jailed members of punk band Pussy Riot. The Russian Orthodox Church said that the women should be pardoned if they repent their actions, which defense lawyers vowed they would not do.
­The three women were sentenced to two years in prison for performing an anti-Kremlin 'punk prayer' in Russia's main Orthodox cathedral. 
Watch our live feed here.

08:15 GMT: The court rules that the Samutsevich should be granted her recusal, and postpones the hearing until October 10.
08:14 GMT: The appeal hearing is resuming.

08:13 GMT: The prosecutor suggests that Ekaterina Samutsevich should hire another attorney within five days.
08:06 GMT: On Twitter, witnesses report seeing around 150 people outside the court, including many Orthodox activists.

Image from Twitter/@MaksimLukyanov
07:45 GMT: The court announces another five-minute break to decide whether to continue the appeal hearing.
07:42 GMT: The members of Pussy Riot claim the hearing can't continue if one of them isn't represented by an attorney. The judge responds that it is unclear whether the hearing should be suspended.

07:35 GMT: The appeal hearing is resuming.
07:31 GMT: A five-minute break in the hearing is announced.
07:31 GMT: Pussy Riot member Ekaterina Samutsevich is contradicting her attorney, saying their positions on the case differ. She would not elaborate on the supposed differences.

Image from Twitter/@Vasilevskaya_RT
07:24 GMT: Pro- and anti-Pussy Riot demonstrators brawl outside the court, wrestling to snatch each other's banners.

07:15 GMT:
  The members of Pussy Riot are being led into the courtroom.
Image from Twitter/@ReggaeMortis1
07:12 GMT: Orthodox activists are praying in front of TV cameras outside the court where the appeal hearing is taking place

07:08 GMT: Occupy Moscow activists are gathering in front of the court, brandishing 'Free Pussy Riot' banners and pictures of the women's legal defense team.
Pussy Riot supporters release balloons tied to portraits of the defense attorneys near the Moscow court where the hearing is taking place. (RIA Novosti/Vladimir Astapkovich)
(A 'Kazaki' music band is protesting near the court where the appeal hearing is taking place. (RIA Novosti/Vladimir Astapkovich)