Huge Mexican volcano eruption hurls burning ash into the sky (VIDEO)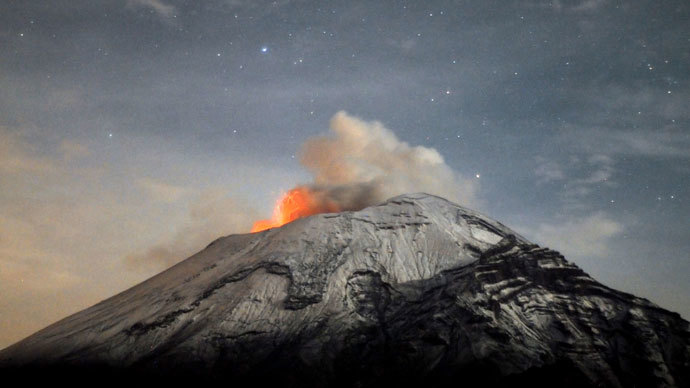 Mexico's active Popocatepetl volcano has registered a massive explosion spewing ash and incandescent rock almost 4 kilometers high. Authorities have warned that winds could blow the ash cloud as far away as Mexico City.
Inhabitants of villages up to 25 kilometers from Popocatepetl (colloquially known as 'Don Popo') rushed out of their houses when the massive explosion reverberated through their homes.

Esther Matinez, resident of Amecameca municipality, told Mexican publication La Jornada that the blast was like a rocket explosion. Around 4.5 million people live within a 50-kilometer radius of the active volcano, 650,000 of whom are considered to be at high risk.

According to authorities in the state of Puebla, where the second-tallest volcano in Mexico is located, the incandescent fragments released in the blast fell as far as 2 kilometers from the crater. Director of Puebla's Civil Protection department Jesus Morales said that burning rocks sparked small fires around the volcano.

"There were clouds at the time of the eruption so it was possible to observe the large shock wave accompanied by a plume of ash and incandescent material," Morales said.

Mexico's National Center for Prevention of Disasters (Cenapred) said the volcano had returned to its previous activity level, and that the volcanic alert level would remain at 'yellow phase two.' In addition, volcanic ash that was blown up to 4 kilometers into the air could be shifted by wind currents and then fall on Puebla, or even as far away as Mexico City, Cenapred warned.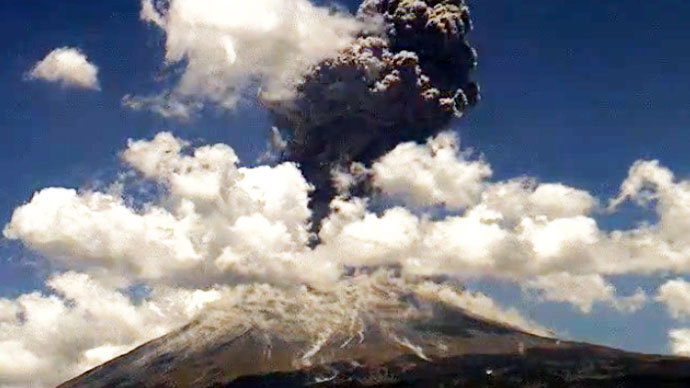 Popocatepetl had previously been in phase two after breaking the record for the most volcanic emissions in one day – the 5,452 –meter-tall giant gave off 300 emissions in just one day in May.

In December 2000, the volcano registered one of its largest eruptions in recent history, prompting the mass evacuation of the surrounding countryside. The name Popocatepetl originates from the native Mexican Nahuatl language and means 'smoking mountain.'

You can share this story on social media: