Three volcanoes erupt in Kamchatka Peninsula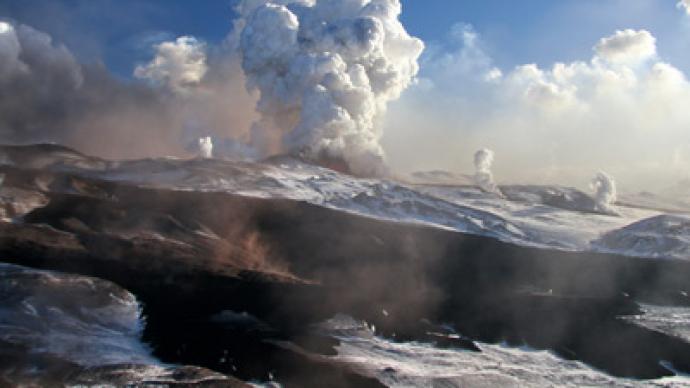 Three volcanoes in Russia's Kamchatka continue to send steam and ash into the air while lava flows down their slopes. Volcanic activity on the peninsula has dramatically intensified. Aviation authorities issued an orange security level in the area.
The volcanoes Shiveluch, Kizimen and Plosky Talbachek are erupting in different parts of the peninsula simultaneously, causing dozens of local earthquakes, as the vibrations accompanying the eruptions of the giants continue to increase.The biggest and most active is Shiveluch, Kamchatka's northernmost volcano and 3,283 meters high. Over the last days it made several eruptions of gases, steam and ash, the highest of which reached the 4,900m above sea level. Unceasing earth tremors send avalanches down its slopes. Sensors installed near the volcano are registering high seismic activity with, active gas generation and thermal anomalies.Activity of Shiveluch started to grow back in 2009 when its dome split with a fissure 30 meters deep.A mere 45km from Shiveluch there is Klyuchi settlement with 5,000 citizens. Volcanologists say at the moment there is no imminent danger to the town.
Stratovolcano Kizimen 3,900m high in the Kronotsky Reserve, famous for its Geyser Valley, is situated some 265km from the region's largest city of Petropavlovsk-Kamchatsky. Its seismic activity also by far exceeds normal: over 80 local earthquakes have been registered near the volcano in the last 24 hours. The pillar of gas and ash rises to 4,400m above sea level. At night the red glow could be seen in the sky above its crater. Kizimen 'woke up' in 2009 after the last big eruption in 1928-29 and since then its activity has only been growing.
Plosky Talbachek volcano 3,140m, a part of two-dome volcanic pile (the second dome Ostry Talbachek is 3,689m), became active on November 27, 2012, some 36 years after precisely predicted "Great fissure Tolbachek eruption" in 1975-76.Plosky Talbachek has been erupting lava for weeks now. Two openings below the crater level were sending lava flows that reached 6 and 18km. The flows are glowing in the nighttime, which means that more and more masses of lava continue to arrive, reported Kamchatka Volcanic Eruption Response Team.Though increased volcanic activity and eruptions pose a certain threat to air travel over the Kamchatka Peninsula, volcanologists closely monitoring the situation report no imminent danger to settlements close to any of the three volcanoes.
You can share this story on social media: