Police unleash water cannons, tear gas on thousands of Chilean students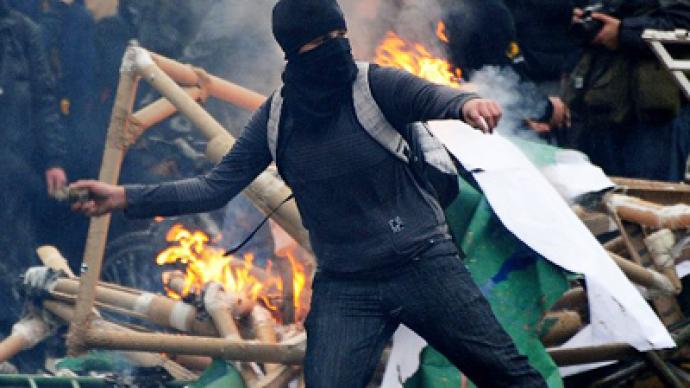 Clashes erupted after tens of thousands of students marched in the Chilean capital of Santiago for education reform. Spanish press reported 15 police injured, and 250 students arrested.
Student leaders say over 150,000 protestors marched through heavy rains on a 5 kilometer march that wound through the Chilean capital on Thursday. Police put the number at closer to 40,000.While initially peaceful, the protests quickly turned violent when some of the students hurled stones and a molotov cocktail at a car, setting it on fire.Police responded swiftly, unleashing water cannons and tear gas on the increasingly agitated protesters."We saw a number of distressing things today," said Luis Valdes, head of Santiago police force to journalists. "One of our police vans was attacked; we witnessed an attack on a detention vehicle, a public bus and several lootings."The governor of Santiago called on the leaders of the student movement to take responsibility for damages to public and private property during the march."The brutality carried out by this group of delinquents should be condemned without the slightest hesitation," stressed governor of Santiago Cecilia Perez.Student protests have been ongoing in Chile for over a year, with students demanding more government involvement and funding for secondary education. Higher education in Chile is among the worlds most expensive, with many students buried in debt after graduation. Also, although the number of students has gradually swelled over the years, no new universities have been built.Students say that increased government university funding will ease the high tuition rates, through which much university activity is funded.The government says it has made changes in response to the demands, but the students claim they have not gone far enough."We have a government that doesn't want to listen, not only to social movements but also a parliamentary commission that has clearly identified profiteering in our institutions (universities)," said Noam Titelman, President of the Student's Federation at the Catholic University.
You can share this story on social media: