Danish cops block Google, Facebook for 'child porno'... by mistake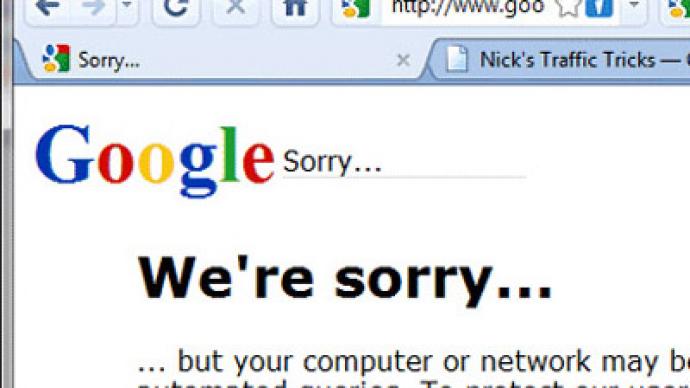 Imagine logging on to Facebook only to find it had been shut down for offering child pornography? Visitors to some 8,000 websites in Denmark faced just that, when a "human error" by Danish police labeled most of the internet a sexual predator.
With the Internet under attack by a string of abbreviations ranging from ACTA to SOPA, avid web surfers have been a bit jumpy as of late.In these troubled times, imagine the shock many Danish users of the Siminn internet service provider (ISP) received when a casual workday visit to Google or Facebook left this message ominously glowing on the screen:"The National High Tech Crime Center of the Danish National Police [NITEC], who assist in investigations into crime on the Internet, has informed Siminn Denmark A/S, that the Internet page which your browser has tried to contact may contain material which could be regarded as child pornography."For several hours Thursday, that message appeared on the screens of 8,000 different websites, virtually bringing down large swaths of the Internet across the country.  How did it all happen?According to NITEC chief Johnny Lundberg, it didn't take much.The whole fiasco apparently began when an employee at the police center switched seats with his colleague."He sat down and was about to make an investigation, and in doing so he placed a list of legitimate sites in the wrong folder," Lundberg said. "Before becoming aware of the error, two ISPs retrieved the list of sites," the Torrentfreak blog cites him as saying.With a few misguided mouse clicks, police were able to blacklist 8,000 websites instantly.Although NITEC fixed the problem as soon as they became aware of it, it still took over three hours for the affected users to regain access to the targeted sites.While Lundberg apologized and claimed that blocking sites in the future would require two people instead of one, the question remains:  should authorities have the power to take down the Internet in the blink of an eye?Denmark's IT-Political Association says yesterday's blackout blunder points to the perils of ISPs cooperating with police on online security without judicial oversight."Today's story shows that the police are not able to secure against manual errors that could escalate into something that actually works as a 'kill switch' for the Internet," the group said in a statement.Amid fears that Western governments are seeking to curtail Internet freedom, just remember, in extreme circumstances, your country could go offline in the blink of an eye.
You can share this story on social media: