Playboy uniform lands military band in trouble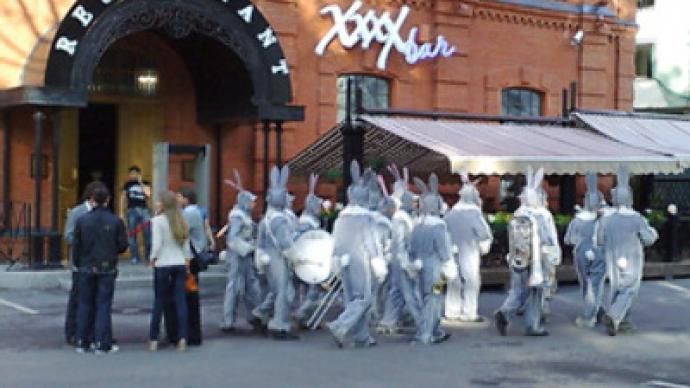 Military officials are baffled over what to do with a military band caught on camera dressed as Playboy bunnies. Prosecutors are demanding punishment for their superiors after the photos sparked a scandal.
The controversy started in early July when pictures of the band in their very unmilitary costumes were leaked on the Internet. The furry crew carrying horns, woodwind instruments and drums was spotted parading in front of a club in St. Petersburg. They had been hired by a businessman to perform at his birthday party, as the media later found out.
Some army top brass were furious at the band's inappropriate apparel, prompting the military prosecutor's office to launch an investigation.
A month later it identified which of Leningrad's 28 military bands was involved. Army prosecutors are now demand punishment for the band's commanding officer and the head of the military band service, reports Komsomolskaya Pravda newspaper.
The newspaper adds that the staff may find it tough to follow the request. Side jobs are a common source of extra income for military bands in Russia, and punishing them for it would mean that the military would have to launch a major crackdown on the business. And regulations say nothing on servicemen being forbidden to dress as bunnies while off duty.
Meanwhile, as part of Russia's military reform, the general staff is planning to replace conscripts in military bands with contracted musicians.
You can share this story on social media: