'Never getting on a plane again': Jumbo jet aborts crosswind landing in storm-battered UK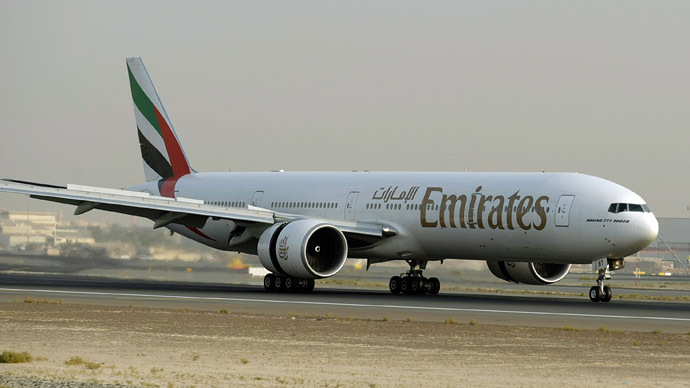 Several planes across Britain have been forced to abort landings and redirected to other airports as 100 mph winds wreaked havoc on the country, forcing hundreds of flights to be delayed. Dramatic footage of a Boeing-777 failed landing appeared online.
Amateur footage has emerged of an Emirates Boeing-777 from Dubai attempting a crosswind landing at Birmingham International Airport on Thursday, before pulling away at the last moment.

"As we came towards the city, the plane was shaking on the way down. We could see from the in-flight monitors that the plane was drifting to the left as we were landing," passenger Kevon Miller told the Birmingham Mail.

"When the plane started hovering back up from the landing, we thought the pilot was half-asleep and had lost control!" said another passenger, Muhammad Zulfiqar.
The plane attempted to more go-arounds, but had to be redirected to Gatwick airport, where passengers waited inside, before winds died down sufficiently for the plane to make another, successful, landing in Birmingham.
"Never getting on a plane again. Full on wanted to cry," Miller posted on Instagram.
Two EasyJet flights destined for Edinburgh were also diverted. A route from Bristol had to make a stopover at Newcastle, and was hit by lightning as it tried to land, and another jet had to land in Glasgow.
Passengers in most airports around the north of the country and Scotland are advised to constantly check updates as flight status is changing from hour to hour.