Clashes erupt as police fire tear gas at massive Pinochet victims march in Chile
A march honoring Pinochet victims in Santiago, Chile, was disrupted after hooded youths infiltrated some 30,000 demonstrators, inciting violence. RT's Spanish channel crew was caught in the chaos as police fired tear gas.
RT correspondent Ignacio Jubilla and producer James Aristia were hurt when violence erupted at the event, which started peacefully, according to police. Jubilla described the actions of the police as "brutal" and "terrible" as officers tried to restore order. 
He said the RT crew was near the tomb of Salvador Allende in Santiago's General Cemetery when police began to violently repress the peaceful demonstration.

"We were stuck there, we lost our cameraman," Jubilla recalled, adding that he had to "run into the middle of the chaos without seeing anything" after tear gas got into his eyes.

Chilean police said they used tear gas and water cannons to disperse around 100 protesters who built barricades and started fires in the streets.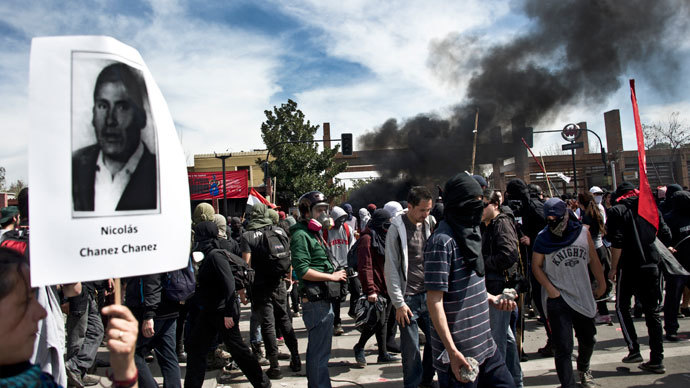 Eight demonstrators were arrested and at least one officer received injuries during the clashes.

Police estimated that some 30,000 participants took part in the march, which commemorated the 40th anniversary of the coup that brought Dictator Augusto Pinochet to power on September 11, 1973, ousting elected socialist president Salvador Allende from office.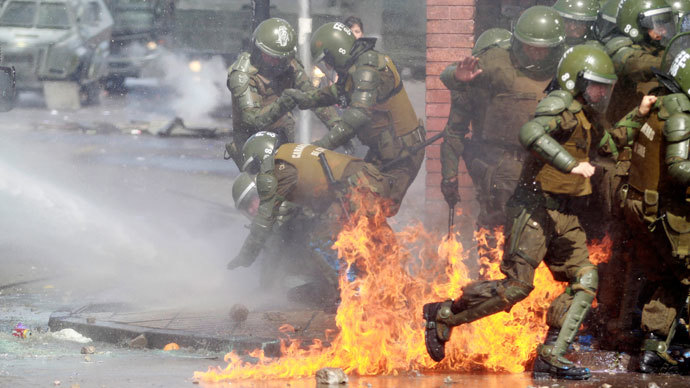 Many of the demonstrators carried pictures of family members who were killed or disappeared during the Pinochet rule which took place between 1973 and 1990. Human rights organizations say that more than 3,000 people were killed and 30,000 others imprisoned and tortured under General Pinochet.

The Chilean dictator, who died in 2006, was never convicted for the crimes committed by his regime.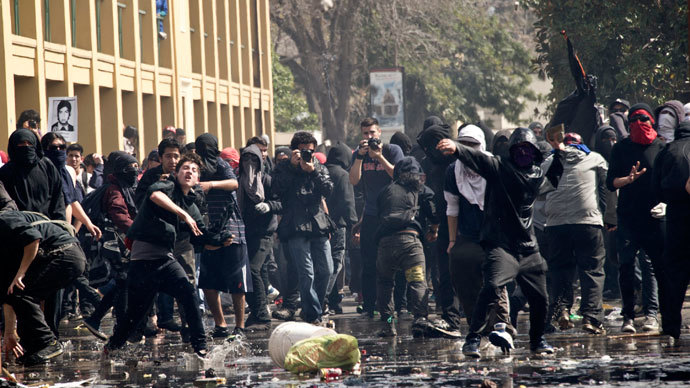 Brutal represión policial en las marchas en #Chile. Equipo de @RT_Argentina en medio de los incidentes pic.twitter.com/crjNeNYPlR

— Ignacio Jubilla (@Ignacio_RT) September 8, 2013
Nuesro productor después de la represión policial con gas lacrimógeno en marcha #Chile#Pinochetpic.twitter.com/HawbMEKY7T

— RT Argentina (@RT_Argentina) September 8, 2013
@Ignacio_RT#Chile Marcha a 40 años del golpe de #Pinochetpic.twitter.com/xb7WQvV3in

— RT Argentina (@RT_Argentina) September 8, 2013