Pink slips coming for Kremlin staff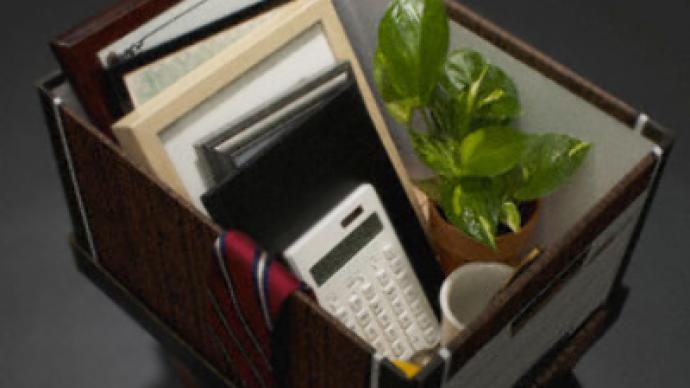 The Russian President's office is not the place to avoid mass dismissal alongside other budget cuts. These measures are due in spring of this year.
Some 100 employees are to be sacked from Dmitry Medvedev's administration. This means that approximately every fifteenth worker will lose their job, since there are about 1500 people working in his offices.
The list of the unlucky staff will be put together by March 1. Further, new staff will not be hired for some time and the expenses of the President's office for 2009-2011 will also be cut.
The administration spokesperson noted that these measures are being taken on the orders of the President.
Follow me
Medvedev first mentioned upcoming reductions in expenses in the middle of February this year. Speaking of the difficult financial situation, the President noted the need to economize and added that his administration was going to set 'an example'. But significant staff cuts were not mentioned at that time.
Besides asking to work out a plan for cutting the expenses of his administration, Medvedev also recommended that the Federation Council and regional deputies do the same.
"One has to begin with oneself. The President's administration is not the largest structure but it should show an example," Russia's leader said.
By now, the planned expenses of the Federation Council has been cut by 30%. The State Duma has reduced its costs by 5.7 per cent with sacrifices in furniture and office equipment and is ready to economize as much as 12 per cent by cutting back on business trips and telephone calls.
As for the ministries, they are planning to cut expenses from 11 to 33 per cent.
…and stay away from Courchevel
Earlier this month, Medvedev announced he was going to take under his control permission for foreign trips for officials, Kommersant newspaper wrote. Before going abroad to prestigious resorts, Russian Ministers will have to inform the President where and for how long they are going – and in writing.
There were plans to impose such rules while Vladimir Putin was President, because during foreign journeys it was often impossible to reach ministers when the need arose.
Also, Medvedev believes that such trips may be viewed with anger by ordinary people, especially in the midst of the global financial crisis, writes Kommersant.
But despite the economic meltdown, a number of officials weren't too shy to spend holidays in France's Courchevel, which is the most beloved resort of the Russian elite. A scandalous incident is connected with the same place when French police detained Russian billionaire Mikhail Prokhorov, in January 2007, on suspicion that he might be linked to an international prostitution ring.
You can share this story on social media: