Assault and pepper: Cops trained to spray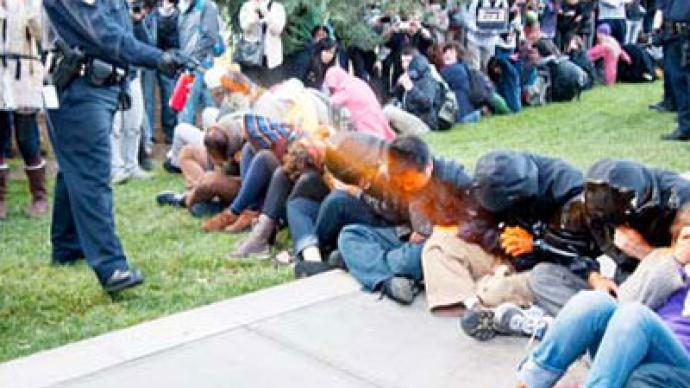 Two police officers involved in Friday's pepper-spray incident during the crackdown on Occupy UC Davis protesters have been put on leave. But some commentators say the police using violence against unresisting protesters is part of the academy drill.
The YouTube video showing policeman dousing students point-blank at their head with irritating chemical has gone viral. It reached more than 1.3 million views over the weekend. The majority of comments denounce the apparent police brutality against peaceful demonstrators, whose only fault was that sitting passively and refusing to leave.
Shannon Giammichele, sophomore UC Davis student, who was among the victims of the incident, says getting sprayed by the police resulted in an asthma attack.

"I quickly covered, and next thing you knew you just heard the sound of spray going off and felt it in your mouth and your nose," Giammichele told the UD Davis student newspaper Aggie. "I accidentally slipped the lower part of my cover and inhaled pepper spray, so I ended up being transported to the hospital because I have asthma, and I had an asthma attack as a result. It was all over my hands so I got it in my eyes."
UC Davis police announced on Sunday that two officers have been placed on administrative leave over the breakdown of the camp at UC Davis Quad.
Peter Moskos, ex-police officer who is now an academic, says pepper-spraying for non-compliance is part of the police academy training, which he calls "dumb-assed".

"Some people, perhaps those who design training programs, think policing should be a hands-off job. It can't be and shouldn't be. And trying to make policing too hands-off means people get Tased and maced for non-compliance. It's not right. But this is the way many police are trained. That's a shame," he wrote in the Washington Monthly.
Earlier on Saturday a media conference was held at the university by UC Davis Chancellor Linda Katehi and UC Davis Police Chief Annette Spicuzza. Katehi announced that a task force has been gathered to address the incident. A report is to be released within 90 days.
As the conference happened, some 700 protestors – students, alumni and community members – gathered outside the building. The demo calling on the chancellor to resign apparently unnerved the officials, as Katehi left the conference 2 hours and 20 minutes after it ended, the Aggie reports.