Pens grab Stanley Cup, Malkin gets MVP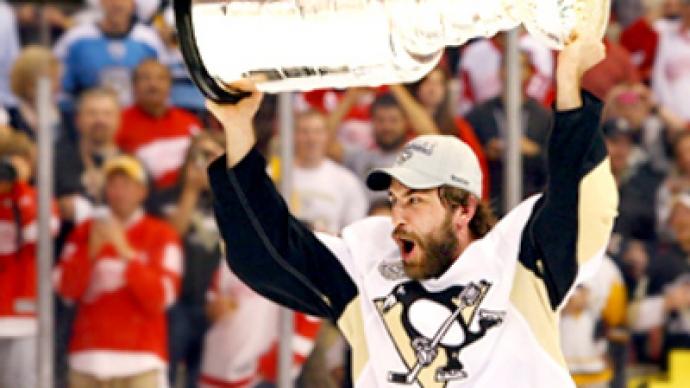 The Pittsburgh Penguins have won the Stanley Cup after beating the Detroit Red Wings 2-1 on the road in the decisive seventh game of the finals.
After a scoreless first period, Pittsbourgh took the lead early in the second.
Their high-energy, up-tempo game forced the Red Wings to make fatal errors.
The Penguins set up their first goal after a line change when Maxime Talbot, aggressive in the Detroit zone, checked defenseman Brad Stuart against the backboards. After forcing the puck loose, he got it back in front of goalie Chris Osgood with some help from Evgeny Malkin. Talbot paused before beating Osgood with a low shot.
The goal seemed to energize the Wings but their attempts to equalize proved fruitless. Instead, Talbot used a Pen's counter-attack in the middle of the period to double the scoring.
In the third, Detroit descended upon their rivals. After a sustained 14 minutes of pressure, they reduced the deficit to just one goal. Defenseman Jonathan Ericsson scored the goal.
Detroit then stepped up a gear but couldn't break through the Pittsburgh defense. They preserved their lead to secure the Stanley Cup.
Curiously enough, Detroit had only lost once at home in this year's competition. Their second home defeat proved fatal for them.
Malkin makes history
Russian star Evgeny Malkin was later named the play-offs' MVP (most valuable player).

A very personal play-off MVP award for 22-year-old Russian sees him join an elite hockey company. Mario Lemieux, a former Pittsburgh star and current chairman of the board, is the only other person in Penguins history to lift the Conn Smythe Trophy.
Malkin's overall points tally of 36 during the postseason, is the most since 1993 when all-time Wayne Gretzky posted 40 in his losing run to the final with the Los Angeles Kings.
While, the Russian stepped it up when it mattered most during the victorious playoff run with the Penguins winning deciding games away from home in all four rounds of the playoffs.
You can share this story on social media: