Patriot missiles in Turkey: Targeting Syria or Iran? (Op-Ed)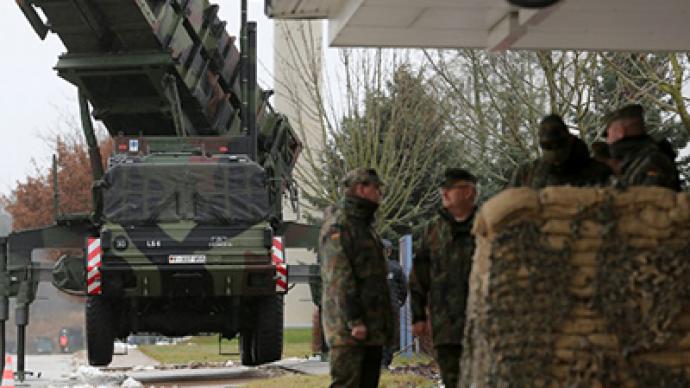 Turkey, a longtime geopolitical hotspot, has recently played a key role in the struggle for influence between regional and Western powers over NATO missile deployments – Ankara is once again at the center of a global crisis.
What prompted this new crisis (and evoked a distinct feeling of Cold War déjà vu) was Ankara's appeal to NATO to deploy its Patriot missiles in the southern Turkish provinces, along the 900-km-long border with Syria. While described as a purely defensive move, aimed at enhancing Turkish security in the wake of the escalating Syrian war and alleged possibility of a chemical weapons attack by the cornered President Assad, the initiative was denounced straight away by Ankara's neighbors and other regional powers – Moscow, Tehran and Damascus."Moscow was wary of the NATO anti-aircraft system's deployment in Turkey," Russian Chief of General Staff Valery Gerasimov said last week during talks with the Chair of the NATO Military Committee, Knud Bartles. Remarks were echoed by Russian Foreign Ministry spokesperson Aleksandr Lukashevich, who warned last Friday that "the stockpile of extra weapons" in the border area would "bring about an additional element of tension."However, there is little chance the Patriot deployment process on Turkish soil will be reversed. At its ministerial meeting in Brussels, held on December 5th and 6th, NATO unequivocally gave the Turkish request its stamp of approval, standing by the commitments under the organization's collective security pact. A team of NATO officials and experts has already landed in Turkey to finalize the terms and conditions of the deal, which will allow Ankara to station six NATO Patriot systems on its soil – two American, two German and two Dutch.  The missiles are expected to reach Turkey soon, within weeks according to some estimates. One could ask: What is wrong with Turkey's genuine wish to effectively seal off its borders from hundreds of potential threats emanating from its troubled neighbor, and take advantage of being a NATO member? Independent military experts have found NATO's official explanation of Patriots being used for defensive purposes confusing.The Patriot system is not used against shells and rocket-propelled grenades, which eventually could be fired at Turkey from Syrian territory. Patriot missiles are used to intercept and destroy missiles as well as to shoot down aircraft. But what missiles does Syria possess that the Patriots could be used against, and why would President Assad arm these alleged missiles with deadly sarin gas (if he even possesses such chemical weapons)?The pretext for the deployment of NATO Patriot missiles in Turkey does not appear credible. But if the real motive is not to deter Syria, why is NATO hurrying to station its anti-missile systems in the region, a part of the world already overloaded with deadly weapons? What if this move has a hidden agenda? "Turkey has explained its request to NATO as exclusively related to its need to defend itself from a possible attack from the Syrian army. But there could be a second motivation for this actions, which is a preparation for military strike against Iran," a Russian diplomatic source told Kommersant daily.  If one considers the distance between the region of Patriot deployment in Turkey and the Iranian border, Moscow's worry could seem a bit far-fetched. However, Patriot missiles can easily be moved to any region in Turkey, including its eastern border with Iran. "These are mobile units that can be moved to any point in Turkey. It's only about 500 kilometers from where the units will be located to Tebriz in Iran, where some say there are secret nuclear facilities," Dmitry Polikanov said. Polikanov is the vice president of the Moscow-based PIR Center, an independent thinktank. "Considering that the US wants to use Turkey as an advance missile shield, the Patriots might be stationed there forever. Turkey wanted to modernize its weapons anyway and already started taking bids for similar weapons systems. Under these circumstances, the weapons are most likely directed against Iran," Polikanov said, adding that any kind of provocation could now become a pretext for war. And the installation of NATO anti-aircraft missiles in Turkey means that Iran will no longer be able to retaliate if attacked.Iranian armed forces chief General Hassan Firouzabadi said last Saturday that the lessons of 1962 Cuban missile crisis may return to haunt the world. "Each one of these Patriots is a black mark on the world map, and is meant to cause a world war. They are making plans for a world war, and this is very dangerous for the future of humanity and for the future of Europe itself," General Firouzabadi warned.The already tense relations between Ankara and Tehran have been further strained by a last-minute announcement that President Mahmoud Ahmadinejad has skipped a much-awaited visit to Turkey and talks with Prime Minister Erdogan in a move largely seen as a sign of Iran's growing displeasure with the Patriot deployment.
Sergey Strokan for RT
The statements, views and opinions expressed in this column are solely those of the author and do not necessarily represent those of RT.
You can share this story on social media: