Gunman 'on the run and represents a real danger' in Paris after newspaper, bank shootings
Published time: 18 Nov, 2013 15:17
Edited time: 18 Nov, 2013 19:19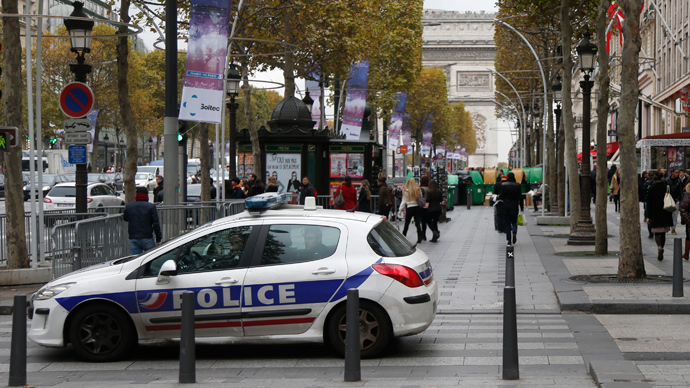 Police are attempting to track down a lone gunman who opened fire at the offices of a left-wing newspaper and a major bank in central Paris. A photographer's assistant was injured in the dual attacks.
A helicopter was flying over Paris' world-famous Avenue des Champs-Elysees after the shaven-haired assailant took a driver hostage in a west Parisian suburb and forced him to drive him to the central thoroughfare.
The suspect, armed with a pump action shotgun, remains at large. He is "on the run and he represents a real danger," according to interior minister Manuel Valls. The minister assured that everything possible was being done to guarantee that he would be caught, according to AFP.

"As long as this person is still on the loose and we do not know the motives, this represents a threat," Interior Minister Manuel Valls told reporters outside the offices of the daily newspaper, Liberation, in east-central Paris, where the first attack took place. "We must move fast." French President Francois Hollande added his concerns as he was undertaking an official visit to Israel and the Palestinian territories. He "could still kill tomorrow or at any time," Hollande said. 
Valls said the government had dispatched police to all major media organizations in Paris while Hollande stated "all means" would be deployed to apprehend the suspect.

On Monday morning the gunmen charged into the headquarters of Liberation and opened fire, critically injuring the 27-year-old assistant photographer in the chest and stomach before fleeing the scene.
"He walked in, fired twice and left," Liberation managing editor, Fabrice Rousselot, said. Deputy editor-in-chief Fabrice Tassel tweeted that the victim had been hospitalized and was fighting for his life.
Rousselot said witnesses described the assailant as a short-haired man in his 40s. Police said he was "of European type", Reuters reports. French radio reports said he was dressed in a green jacket and wearing a bullet-proof vest.
About 90 minutes later, the gunman opened fire outside the suburban headquarters of the French multinational, Societe Generale, in the La Defense business district, 6 miles west of the city center. No one was injured in the attack. Soon after, a man called police to say he had been taken hostage by a gunman in the town of Puteaux, near La Defense. The driver was not harmed in the incident.
On Friday, an armed intruder charged into the lobby of BFM-TV, discharged a weapon and threatened journalists before leaving. After collating surveillance footage, police say the same man was shown in each of the incidents, Reuters reports. Police further said the same shells were used in both incidents on Monday morning.
Paris police continue to scour the streets for the perpetrator. It remains unclear what motivated the attacks or the choice of targets, police said. Eight hours after the shooting as night time hit the French capital, the gunman remained at large.