Palestinians erect 'tent city' to protest Israeli settlements in West Bank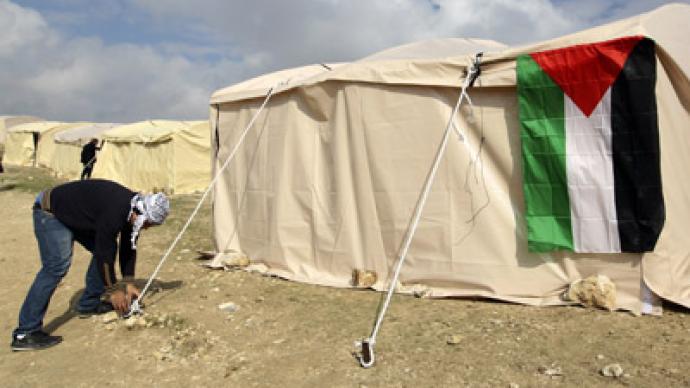 Dozens of Palestinians have pitched tents in the occupied West Bank, in a bid to preserve the area for an independent Palestinian state. Around 20 large, steel-framed tents were set up in the disputed E1 area, where Israel plans to build settlements.
Police have blocked entry to the site and there is still no decision on what is to be done with those already there.

"We are setting up a Palestinian village here where people will stay permanently in order to protect this Palestinian land," Mohammad Khatib, one of the organizers of the tent village, told Reuters.

The encampment has been named "Bab el Shams," which means "Gateway to the Sun" in Arabic. The tents are providing temporary homes and a health clinic for activists.

The site covers 4.6 square miles (12 square km) and backs onto East Jerusalem, where Palestinians want to establish their capital.

The project began roughly one month ago, by residents of nearby Palestinian villages in danger of having their lands "frozen" to accommodate settler expansions, Palestinian activist Abdallah Abu Rahma told Haaretz.

"Palestinians are no longer content with policies of occupation and settlement," Rahmaa said.
Activists say they will live at the location until their outpost is recognized, and plan on holding daily events to discuss Israeli Prime Minister Benjamin Netanyahu's settlement policies.The building of Israeli settlements is frowned upon by many international powers which say the move will be detrimental to securing an Israeli-Palestinian peace deal. Direct peace talks between Israel and Palestine broke down in 2010.Israel has frozen building in E1 for many years, after coming under pressure from then US President George W. Bush. However, Netanyahu announced settlement plans after the Palestinians won de-facto state recognition at the UN General Assembly last year. Those plans involve building around 4,000 housing units in the area.Palestinians retaliated to the announcement, as they seek to establish an independent state in the West Bank. "This is not a symbolic act, but comes in response to Israeli settlement building and we are sending a message to the international community that urgent action must be taken against Israel's settlement construction," Khatib said.Around 500,000 Israelis and 2.5 million Palestinians live in the West Bank and East Jerusalem.
You can share this story on social media: