Palestinian prisoner: 'This hospital is like jail in fascist Germany during Holocaust'
Riots over the death of a Palestinian prisoner in an Israeli jail rampaged across the West Bank and Gaza this week. One of the detainees RT managed to reach said 25 of his fellow inmates had cancer and were being denied treatment.
The prisoner, whose anonymity is preserved for security reasons, believes medical assistance in the Israeli jails is withheld on purpose, "to break the will of the detainees." Speaking to RT, he described the negligence sick Palestinian detainees are faced with.
"We suffer from an incredibly low standard of medical assistance. Among those detained here, there are at least 25 people who suffer from cancer - and they're not getting the treatment they need. They are only given painkillers," he said, adding that the prison hospital is "like a jail, like the ones in fascist Germany during the Holocaust. It only has a small infirmary, if you get placed there for 15 hours - you leave with sick kidneys or liver, or any other kind of disease."
Maysara Abu Hamdiyeh, a Palestinian inmate of an Israeli prison, whose death on Tuesday provoked a wave of clashes across West Bank and Gaza, had reportedly been refused release for treatment. According to Abu Hamdiyeh's family, he had complained about his health since the summer of last year. But it was only in March, when he was already terminally ill, that prison authorities allowed him to be treated in hospital, where he died a week later.
Hamdiyeh's funeral attracted thousands of mourners. The raging and rioting crowd blamed Israel for the 63-year-old prisoner's death.

The accusations were dismissed at the highest level.
"The Palestinian detainees imprisoned in Israel receive excellent medical attention and are visited by the Red Cross, whereas inmates in PA prisons receive nothing," Ofir Gendelman, a spokesperson for Prime Minister Benjamin Netanyahu, said, accusing the Palestinian Authority of exploiting the prisoner's death in order to escalate tensions in the West Bank, according to Haaretz.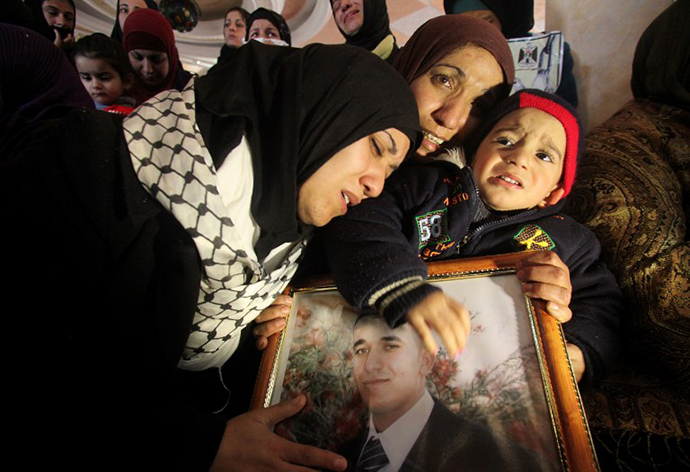 Hamdiyeh's death is the second of a Palestinian in an Israeli jail this year - 30-year-old Arafat Jaradat died of a heart attack in February. Palestinian authorities claimed the he died after being tortured, citing autopsy findings revealed numerous injuries. Jaradat's funeral also drew thousands of Palestinian demonstrators, who clashed with Israeli police.

The death of Abu Hamdiyeh had much stronger repercussions, showing increasing frustration of the Palestinians. Gaza broke the fragile four-month-long ceasefire, firing rockets into southern Israel, and eliciting an airstrike from Tel Aviv.
"There is a state of wide-spread anger and indignation over what many people consider a premeditated murder by the Israelis. Palestinians think that the death of Maysara Hamdiyeh was a direct result of Israeli criminal negligence as well as moral callousness," Khalid Amayreh, a Palestinian journalist, told RT.
More than 4,000 Palestinian inmates went on a hunger strike to show their anger at Hamdiyeh's death. They want to draw the world's attention to their plight.
"We are demanding that the international community use the [UN] Security Council to free the sick detainees. We are talking of those who are mortally ill. I was just released from a hospital where I saw a young man suffering from kidney stones, who was only getting pain killers instead of treatment. There are people among us who have spent 35 years behind bars. We are demanding an International committee that would visit these prisons and prison hospitals. All of them," the Palestinian prisoner told RT.
A stronger response from the international community to the situation with the Palestinian prisoners is something a Montreal based Center for Research on Globalization is calling for in its report issued April 6.  

"Israel is arguably exempt from strong condemnation over its treatment of the Palestinian people as a result of certain international human rights organizations' ability to ignore Israeli violations against the Palestinians," the report says.