Five Palestinian children injured after Israeli settlers set fire to their home
Published time: 14 Nov, 2013 20:29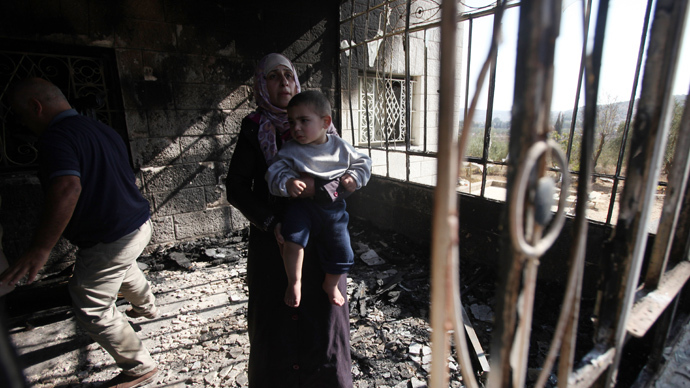 At least five Palestinian children were injured after settlers torched their home north of the West Bank city of Ramallah, local media reported. It comes just one day after an Israeli soldier was stabbed on a bus in the area.
A conflicting report from Press TV stated that the children died in the attack.

The incident took place in the village of Sinjil, located 21 kilometers northeast of Ramallah, when a group of settlers attacked the house during the night, Palestine News Network reported adding that the children were taken to a nearby hospital for treatment. Three adults also reportedly suffered injuries.

The attackers painted racist graffiti on the wall saying the act was revenge for the recent stabbing of an Israeli soldier, local WAFA news agency reported.

A 16-year-old Palestinian from Jenin stabbed and killed the soldier on a bus in Afula, a city in the North District of Israel, on Wednesday.  The attack was supposedly motivated by Israel's jailing of his uncles, Reuters reported, citing police. The killer was caught as he tried to flee after passengers streamed off the bus shouting "terrorist, terrorist."

Such attacks are common in the region, as tensions have been running high since Israel accelerated the construction of Jewish settlements in the West Bank. The Palestinian Authority strongly opposes the construction on the territories which are claimed by both sides.

Palestinians claim rights for the West Bank, East Jerusalem, and Gaza Strip territories that were occupied by Israel during the Six Day War in 1967. Meanwhile, Israel claims that it has historic links to the land.

The ongoing expansion of the settlement program has been widely criticized by the international community. US Secretary of State John Kerry has said that his country does not approve of Israel's settlement policies.

"Let me emphasize that the position of the United States is that we consider now, and have always considered, the settlements to be illegitimate," Kerry said after meeting with Palestinian President Mahmud Abbas in Bethlehem at the beginning of November.

On Tuesday, Israeli Prime Minister Benjamin Netanyahu called for his government to reconsider long-term construction plans. The move came after Abbas warned Israel that peace talks brokered by the US will be hindered unless the program is canceled.