Pakistani pair challenge religious, gender and cultural divides with song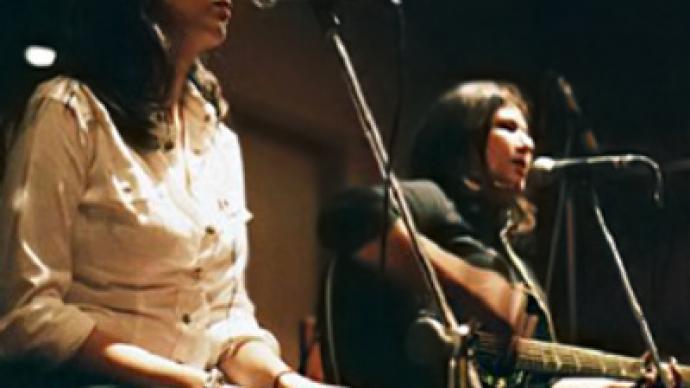 Zeb and Haniya have created history by being Pakistan's first all-women rock band. The Lahore-based duo, originally from the Taliban-infested North West Frontier Province, is now hitting headlines in Asia.
Cousins Zebunnisa Bangash and Haniya Aslam's debut album "Chup" (which means hush!) is breaking new ground for Pakistani music as the first album by a female duo to be released in recent history. It also won the Best Live Act Award at MTV Pakistan's Music Awards earlier this year.
The girls, both in their early 30s, will be touring Mumbai this month after canceling their gigs following the attacks in the city last year.
Can't bomb away the music
The most startling fact about the duo is their origin. Both Zeb and Haniya are ethnic Pashtuns, and their families hail from the town of Kohat in Pakistan's North West Frontier Province (NWFP), the region has, of late, become synonymous with the Taliban and al-Qaeda.
The Taliban had banned a large number of activities including music, videos and dancing. Music has been a particular target of pro-Taliban militants in the NWFP who believe it is anti-Islamic and spreads vulgarity and obscenity in society.
In 2002, when an alliance of six religious parties called the Muttahida Majlis-e-Amal became victorious in the NWFP, everything related to music was thrown out.
The provincial government banned singing and the playing music in public places, including in vehicles. The militants even bombed music shops in the area.
Though the girls have never lived in NWFP but they do keep going back for family functions and get-togethers. "I remember once we had gone to our maternal village in Kohat area during the time of Eid."
"We were all sitting in a room when we heard a huge blast sound. The glasses shattered and there was a loud bang. Later we realized that a CD shop in the neighborhood had been blown up!" recalls Haniya.
This year alone, extremists blew up dozens of music shops in the NWFP and the adjoining tribal areas, including six in Kohat, the band's hometown. The reason was that the shopkeepers ignored the deadline given by the militants to close the shops.
Hailing from well-to-do families and educated elite colleges in the United States, the cousins represent a section of Pakistani youth that is not only turning to music and other arts as a way of making a living, but also treating it as a way of cathartic release from the frustrations of living under the threat of Taliban rule.
Bands like theirs are actually an answer to every Taliban militant who has attacked music, theatre and film through bombings and assassinations, most notably in the Swat valley northwest of Islamabad, which they took over before being government intervention over the last few months.
"I think what happened in Swat with the Taliban is really sad. But people, especially Pakistani women, really look up to us. We have received emails from girls in that region saying they want to come out and prove themselves," said Haniya.
"I remember one incident where a mother came to me and told me that she wants her girls to pursue music more seriously and take it up as a career option.
"But it was both surprising and exciting to see our billboards in Pakistan at a time when all the billboards containing women images were blacked out," Haniya related.
Pillars of strength
Did they face any kind of opposition from their families or male-dominated society in Pakistan's music scene? "No it was just the opposite. Everyone has really supported us and rather encouraged us to a great extent," says Haniya, who along with Zeb, studied in elite colleges in the US.
Despite the threat of Talibanization across Pakistan, most citizens remain liberal and tolerant in their ideology. "It would not have been possible without the support of our family and friends," she added.
Not your usual funky band
The girls are not like your average neighborhood band, and are certainly not seen wearing funky clothes. "I normally wear traditional suits, but Haniya wears a kurta and jeans," quips Zeb, adding that they don't even call themselves a band, as they perform with a group of musicians that keep on changing depending upon the demands of the songs.
The duo also recalls a moment on stage much before they started their own band, when the Pakistani public hooted at calling her "aunty" as she was wearing a salwar kameez. But after they started playing the guitar and singing, the audience went quiet and responded with "we love you!"
However, the duo clarifies that they certainly are not fighting their culture to make music. When their families get together, music is a part of their family functions and this is how they started singing.
Just from their concerts and a few songs on their website, Zeb and Haniya's fan following has multiplied over the last year or so, including in the NWFP, although the duo have never performed there.
They do play in the Frontier's capital, Peshawar, but only at family functions, as even today the region doesn't appreciate women onstage. However, their music is now played on every Pakistani radio station.
Stretching genre boundaries
Zeb has been training in eastern classical music for the past 10 years under the renowned Pakistani musician Ustaad Mubarak Ali Khan, while Haniya is a guitarist and songwriter extraordinaire.
From abandoned dorm basements in the US to coffee shops, Zeb and Haniya have worked their way into record stores countrywide and now their debut album has been flying off the shelves at Karachi's popular music stores.
The pair have both left their jobs to pursue their musical careers full time. Ask them about the kind of music that they make and the humble answer is "a hotchpotch." Zeb smiles and tells me that their music is actually a "mixture of everything that they have grown-up listening to."
Drawing inspiration from Bollywood music, eastern and western classical, folk traditions, jazz music and blues, the girls are reputed to have formulated their own genre. "We didn't start out to become musicians and it just happened over a period of time. The music we make it what we like the most. We both write the songs together."
They sing blues, folk and alternative rock, mostly in Urdu, although some lyrics are in Pushto and Persian, along with influences from Turkish and Lebanese music, quite unlike what Pakistan has heard so far.
And now for the rest of the subcontinent…
The girls are excited about performing in India. Without having delivered a single performance here, they have been all over the headlines in the country and are unfazed by the opposition. Due to recent terror attacks in Mumbai, many Indian musicians are opposed to Pakistani singers who come to India, stay here and make their career.
Acknowledging that the opposition from the Indian music industry has decelerated the business of Pakistani artists, Haniya declares that music has no boundaries. "If people like our music we will certainly come back to India."
They have even met Louis Banks, the famous musician from India, and are planning to meet more people in other Indian cities. "We came to India a week ago to visit our friends and go to Mumbai, Bengaluru and, of course, Delhi."
Nidhi Sharma for RT
You can share this story on social media: