At least 9 dead, scores injured in Pakistan suicide bombing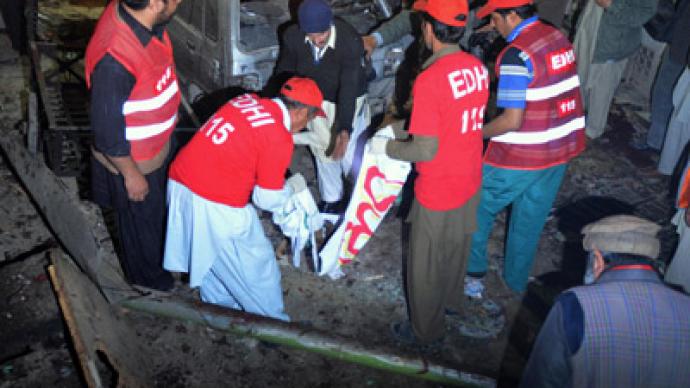 At least 8 people were killed and 25 wounded in a suicide bombing at a political rally in Peshawar, Pakistan's North-West, police said. Another death was added to the toll as a provincial cabinet minister died of wounds sustained in the attack.
Senior Minister Bashir Ahmed Bilour passed away in hospital after getting critically injured in his chest and stomach, local media quote hospital officials as saying. Bilour's personal secretary and a police chief were also killed in the blast.Bilour had been participating in a rally organized by the Awami National Party (ANP). The demonstration took place at a bazaar, while the blast targeted the nearby house of where another ANP meeting was to take place later in the day, News Pakistan daily reported.Conflicting reports suggest that Bilour was actually leaving an ANP meeting which was held at a local party leader's residence, when the bomb went off.Pakistani militant group Tehrik-i-Taliban claimed responsibility for the attack. The ANP is their frequent target since it is a prominent regional movement representing the people of Pashtun, the second-largest ethnic group in Pakistan. Bilour, who occupied the post of the Senior Minister for local government and rural development in the Khyber-Pakhtunkhwa region, was one of the ANP leaders.