Pakistan looking for reset with US despite deadly airstrike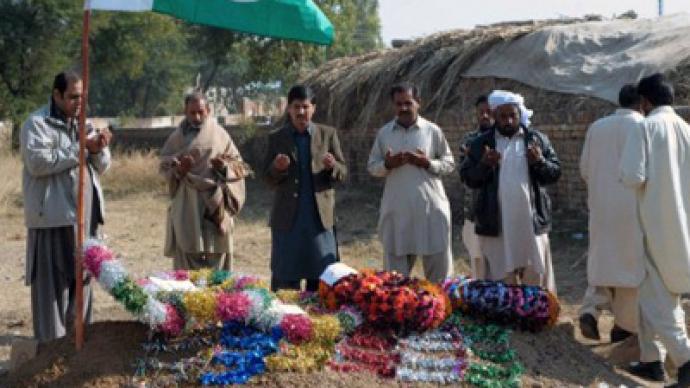 Pakistan still wishes to reset relations with Washington despite the ongoing diplomatic clash over NATO's deadly air strike on the country's troops on the Afghan border.
"We hope for, we really want to have good relations with the US based on mutual respect and clearly defined parameters," said Pakistani Prime Minister, Yousuf Raza Gilani. "I think that is doable. I think that it won't take long."The airstrike by NATO forces on the Pakistani-Afghan border claimed the lives of 24 Pakistani troops on November 26. Washington says the strike had been coordinated with Islamabad's military, but Pakistan accuses NATO of inaccurate targeting. In retaliation for the attack, Pakistan blocked its Afghan crossings to NATO supplies and gave the US 15 days to vacate the Shamsi air base. Washington is doing its best to comply with Islamabad's demands, US ambassador Cameron Munter said on Monday. The base in southwest Baluchistan has been used to service American drones in the event of mechanical or weather difficulties. "I think what we can promise you is that we will do everything we can to vacate the Shamsi base by the date that you asked us," said Munter in an interview with local TV. On Monday, US Secretary of State Hillary Clinton called the deaths of the Pakistani soldiers tragic and promised a thorough investigation. The previous day, President Barack Obama called Pakistani President Asif Ali Zardari to offer his condolences. But no formal apology for the attack has followed from either NATO or Washington.The latest crisis between the two countries threatens attempts to wind down the Afghan war. In another retaliatory step, Pakistan boycotted the Afghan talks in Bonn, Germany, which commence on Monday. As Pakistan is thought to have some influence over the Taliban, this decision disappointed Afghan and Western leaders. Gilani told the Associated Press he did not regret missing the meeting, "since the soil of Afghanistan was used against Pakistan in NATO raids, there was a tremendous protest in my country and people putting pressure on us not to attend." Nevertheless, the Pakistani PM gave a message of assurance to the conference in Bonn, saying Islamabad remains committed to its mission to bring Afghan insurgent leaders to peace talks with Kabul.
'US is just a fair weather friend to Pakistan'
Jeffrey Steinberg, a senior editor for the news magazine Executive Intelligence Review, does not think that Pakistan's boycotting a key conference on Afghanistan implies that they have closed the door on any discussions with Washington."Over the last several days Secretary Clinton, Defense Secretary Panetta – everybody who has got a friend in the Pakistani hierarchy – have been working the phones trying to walk back from something that the Pakistanis can't ignore," Steinberg notes. He points out that an attack lasting several hours was carried out on border positions that were well defined, that were on all NATO, US and Afghan government maps. "It's a significant incident, but I think it's also indicative of a growing state of asymmetric, irregular warfare that has been going on between the US and Pakistan," he adds. Does the funding Pakistan receives from the US mean that it will be forced to back off in this latest round of tensions? Not according to Steinberg, as the country has other sources of funding."Pakistan views China as a constant friend and ally and America as the fair weather friend. They have very good relations with Saudi Arabia and other countries of the Persian Gulf. So the ability of the US, especially in a period of massive cutbacks in military and foreign aid, the idea that the US is a crucial factor in keeping the finance flowing to Pakistan is less true now than it was even a year or two ago."
'US would rather not withdraw troops'
Conn Hallinan, a columnist at Foreign Policy in Focus magazine, thinks the US is playing a dangerous and reckless game in its policy in the region. Speaking of the recent attack that strained relations, Hallinan said that it is hard to see it as an accident "because of the way it took place and the response of Washington afterwards."
He believes that what happened is that the US "has made some decisions" about its strategy in the region, both in Central and South Asia, which "essentially will cut Pakistan out of the formula."
"I don't think the US cares very much about what is going to happen after it withdraws its troops in 2014. I think it would rather not withdraw its troops, which is the nub of the problem because just on November, 2, Russia, China, Iran and Pakistan had a meeting in Istanbul at which they all agreed that they would pressure the US not to leave troops in Afghanistan."
The analyst points out that with all this it becomes difficult to imagine that this breakdown in relations between Pakistan and the US is not somehow tied to that position. "I think this chessboard is much broader than we imagine it to be. It includes really multiple zones, some of them are worldwide," he concludes.
You can share this story on social media: