Child's play: Pakistani 9-month-old baby accused of attempted murder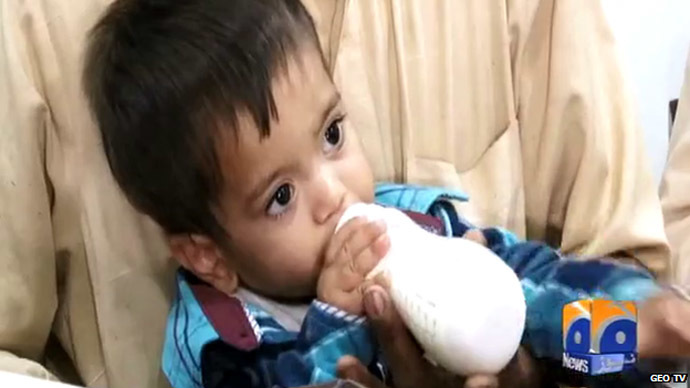 Mohammad Musa might not be old enough to have taken his first step or sounded his first word, but that has not stopped a Pakistani court from charging the 9-month-old boy with attempted murder.
The infant, along with his father and other family members, were booked for allegedly attacking police and gas company officials with rocks and wooden rods in a working class neighborhood of Lahore on February 1.
Inspector Kashif Muhammad, who was in charge of the alleged crime scene and has since been suspended, wrote in his First Incident Report that it was a case of attempted murder.
Mohammad appeared before a judge on Friday sitting on his father's lap and clasping a bottle. He began crying in court and was ultimately given bail. His grandfather at one point had to take his thumb and dip it in ink to place his print on the bail bond, as he was incapable of signing it himself. The case has been adjourned until April 12, at which point the child is expected to make an appearance.
"Everyone in the court was saying 'How can such a small child be implicated in any case?' What kind of police do we have?" AFP cites his grandfather, 50-year-old Mohammad Yasin, as saying.
Deputy Inspector General of Police (DIG) Rana Abdul Jabbar, who was responsible for suspending Kashif Muhammed, has ordered a probe into the incident.
"A nine month old can never commit such a crime. This incident took place due to sheer misunderstanding on the police's part and was not done on purpose," The Express Tribune cited him as saying.
The charge runs counter to Pakistan's minimum age of criminal responsibility, which was increased from seven to 12 years of age in 2013 except in terror-related cases. The judge, however, chose not to dismiss the case against the child, claiming it was not within his jurisdiction.
But the family's lawyer, Chaudhry Irfan Sadiq, told AFP Friday the charges against the child should have been dropped.
"The court should have simply referred the minor's case to the High Court to drop the charges against the innocent child and acquit him from the case," he said.
"This case also exposes the incompetence of our police force and the way they are operating."
Yasin claims the police had fabricated the charges because they were colluding in a plot to illegally evict them from their land and had illicitly obtained an order to sever their gas connection.
"The police and gas company officials came without any notice and started removing gas meters from houses. Residents started protesting and blocked the road but ended the protest when senior police officers arrived in the area and assured them that no injustice would be done," Yasin told AFP.
"But later we found out that cases have been filed against us," he added.
The child's father, Mohammad Ahmed said police had registered a fake case against 25 people in total, including him and his son.
You can share this story on social media: