Sochi 2014 Olympic torch arrives at ISS (VIDEO)
The multinational crew of a Soyuz spacecraft has brought the Sochi 2014 Olympic torch on board the International Space Station. Soon, the Olympic flame will be taken for a spacewalk for the first time in history.
The Russian, American and Japanese members of the incoming mission, TMA-11M, hugged with the six resident ISS crew as they pushed their way through the airlock, swelling the total crew at the station to nine, the most people aboard the ISS since the last NASA shuttle stopped operations two years ago.

The beaming group, led by experienced cosmonaut Mikhail Tyurin, who has served two missions on the ISS, received greetings from officials and relatives at their respective command centers.

"It was a great ride and we're happy to be here," said another newcomer, US astronaut Rick Mastracchio.

The Olympic Torch has been to space twice before – in 1996, before the Atlanta Games, and 2000 ahead of Sydney – but it has never been taken on a spacewalk.

On Saturday, Russians Oleg Kotov and Sergey Ryazansky – two of the current station members – will take the torch out into open space during a busy technical open-space mission that will be overshadowed by a designated one-hour photoshoot for the Olympic symbol.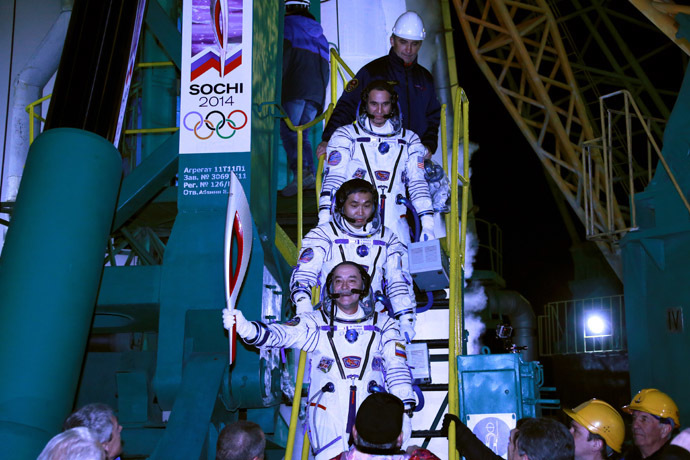 "Our goal here is to make it look spectacular," Kotov told the media during a previous video link.

"We'd like to showcase our Olympic torch in space ... Millions of people will see it live on TV and they will see the station and see how we work."

The torch, known as the Firebird's Feather after the famous Russian mythical creature, is not currently lit, as it would consume precious oxygen and pose a safety hazard. The actual relay to deliver the torch to Sochi is currently proceeding through northern Siberia. The torch at the ISS right now will be used to light the Olympic flame itself when the games open on February 7, 2014.

The torch will return with the outgoing Expedition 36/37 crew, which will land in Baikonur in five days.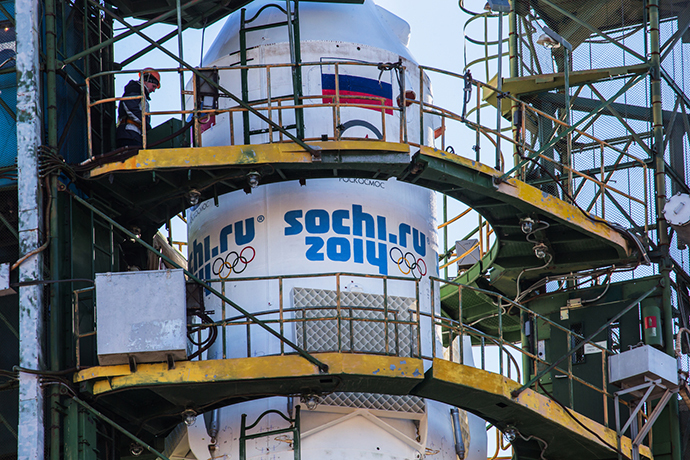 You can share this story on social media: