Daughter puts elderly father on chain under scorching sun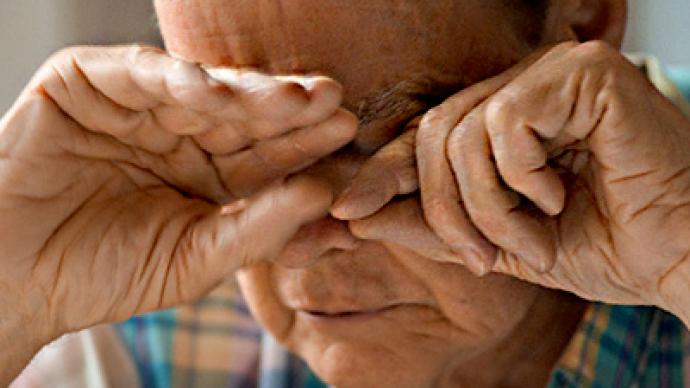 A 70-year-old deaf and blind widower from central Russia has been brutally tortured by his close relatives, who literally treated the man like a dog.
Weeks ahead of the incident, Mikhail lost his beloved wife who alone was taking care of her disabled husband. Distressed and depressed, the old man was walking around the house looking for company and compassion. He still lived in his daughter's large family, consisting of two parents and four children. But all the man encountered was irritation and anger, reports the LifeNews tabloid. Tired of his relatives' coldness, Mikhail started wandering around the village greeting his neighbors, who took pity over the widower and never refused him a cup of tea. Although no one was complaining, the man's daughter soon got tired of having to constantly look after the ill father and decided to solve "the issue" in her own way. The 41-year-old woman took Mikhail to the yard and chained him to a tree, where he spent four days under blazing sun, with daily temperatures reaching up to 50C (122F). To "ease" father's sufferings, the daughter kindly took out an old mattress and let the man lie on it. She also gave her father water and bread, sometimes even porridge.The old man was sobbing and crying all day long, but neither his daughter nor her husband were moved by their relative's suffering. The man's four grandchildren were not allowed to touch him.In four days, Mikhail nearly lost his mind. Having braced himself up, he started shouting and begging for help. The neighbors heard his wails and called the police.When the police arrived, the man was in a fit of hysterics. His relatives were arrested; none of them seemed to understand why. Mikhail's daughter said her father was chained "to teach him a lesson.""From the scene of the crime, we confiscated a three-meter-long metal chain, an aluminum bowl and a 1.5-liter plastic bottle," a policeman said. The police opened a criminal case into illegal confinement. The country's Investigative Committee is now looking into the outrageous incident. "This was so cruel and inhuman that we had to intervene and take the case under our control," said the official spokesman for the Investigative Committee, Vladimir Markin. "Our investigators will make sure that Mikhail's relatives are punished according to the law and that the local authorities are doing their best to tackle the issue." When Mikhail was brought to the local hospital, his doctors were speechless. The old man was barely able to stand. Apart from being clearly malnourished and dehydrated, he also had a large bruise on his head. "The old man seemed mad, he was always whispering something to himself," said a member of the hospital's staff. "Now he is crying all day long."The old man believes he is still on a chain under the sun and is often asking for more food as if he has not eaten anything for a very long time. "They beat me with a bottle and a chain," Mikhail told the doctors. "They took away my pension. I just asked for something to eat, but they poured cold water on me. Soon they stopped feeding me at all and chained me to the tree. I wished I could die." The doctors found out that the man had a whole range of different illnesses and needed special care around the clock. Instead, he was beaten and bathed in cold water, which caused pneumonia. While the doctors are fighting for Mikhail's life, his "relatives" are hiding from their neighbors and the police. The hospital staff hopes to find a place for the old man in a neighboring rehabilitation center, so that he does not have to go to the retirement home.