Obama defends US snooping in uneasy Germany
Published time: 19 Jun, 2013 17:32
Edited time: 19 Jun, 2013 17:34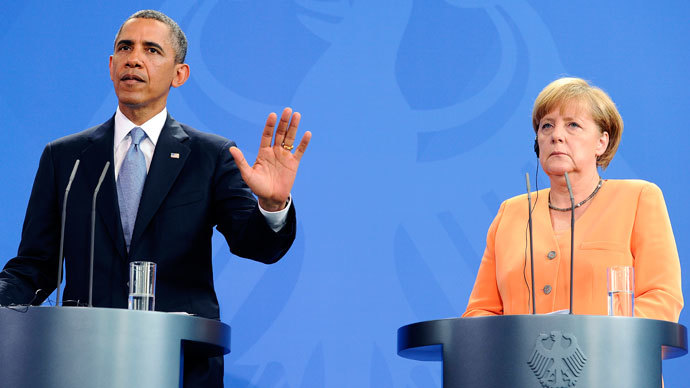 US President Barack Obama has defended the actions of his government's spying on Germany and its citizens on his Wednesday visit to the country, shortly after NSA revelations exposed that Germany was the US's most spied upon European nation.
The codenamed 'Prism' operation instigated an outcry in a nation which still remembers the East German secret 'Stasi' police force.

"Yes We Scan" has been a popular headline across the German press in the days preceding Obama's visit. On the day of his arrival in the country on Wednesday, Berlin witnessed a small crowd campaigning against the NSA's surveillance of foreign communications, with people waving placards bearing the mocking phrase.

"There has to be proportionality," German Chancellor Angela Merkel told a news conference on Wednesday. Merkel herself grew up in the communist East. "The free democratic order is based on people feeling safe," she stated, while conceding that on certain occasions, information needed collecting.

However, Merkel confessed surprise at the breath of spying that was exposed, saying that the US must clarify exactly what data was being collected and monitored.

Obama defended the US "encroachment on privacy" stating that it had been limited by a US-court-approved process.

"This is not a situation where we are rifling through ordinary emails of German citizens or American citizens or French citizens or anyone else," he said on his first visit to Berlin.

It had been revealed shortly before Obama's visit that Germany ranks as the most-spied-on EU country by the US, according to a map of secret surveillance activities by the National Security Agency (NSA).

"The questions are not yet resolved - and of course there are those - which we will discuss," stated Merkel. Obama tried to reassure her that he was "confident that we can make the necessary balance."
Merkel's accompanying statement that "the Internet is new territory for all of us," led to the phrase 'Neuland' going viral on German-language Twitter, with several humorous and cutting pictures being devised to accompany the phrase.

The reasons for Germany being subjected to the heightened US surveillance measures are not fully known, but Obama claimed that the US had eliminated 50 terrorist threats, which included among them attacks on Germany, as a result of their spying program.

"Germany is geographically situated between East and West. Historically it was always the case. On the other hand, Germany is strong economically within Europe. There may be economic reasons, not only protection from terrorists," German activist and theater director Angela Richter told RT earlier this month.

The US has faced criticism from Merkel's allies. Washington is using "American-style Stasi methods," said Markus Ferber, a member of Chancellor Angela Merkel's Bavarian sister party and member of the European Parliament, at the point that the scandal became more public.

Obama's visit to Berlin fell on the anniversary of JFK's "Ich bin ein Berliner" speech. It was also his first time speaking as President in Berlin, five years after he was running for the position as a senator. The meeting of Obama and Merkel was held at Berlin's iconic Brandenburg Gate, and their speeches were made to some 4,000 invited spectators.

"I think people were disappointed – as you already mentioned, five years ago there were 200,000 people listening to Obama and this time there were 4,000 handpicked people, most likely mainly American – that's just, like, two percent of what he could gather as a senator," Frederik Roeder from European Students for Liberty told RT's Peter Oliver in Berlin.