Russian govt not complicit in US diplomat's 'F**k the EU' call leak, official says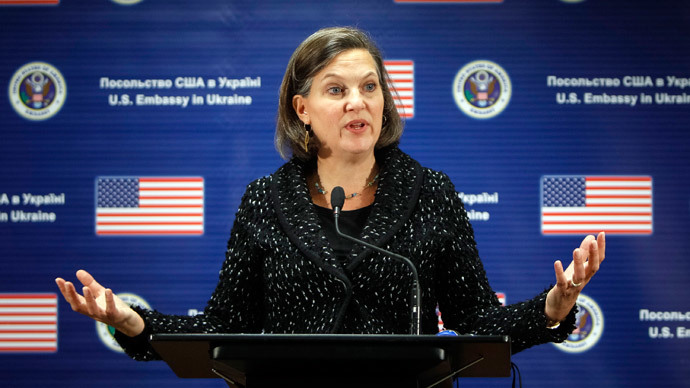 A Russian official, who tweeted a bugged phone conversation in which a senior US diplomat is heard saying "f**k the EU" while discussing ways to end the political crisis in Ukraine, has denied that Russia was involved in leaking the recording.
Dmitry Loskutov, an aide to Deputy Prime Minister Dmitry Rogozin, said he spotted a four-minute video, titled 'Maidan puppets' uploaded on YouTube with Russian-language captions, quite by chance. The origin of the recording is not clear. The video was first reported in the Kyiv Post.

When the White House correspondent, Peter Baker, asked Loskutov "How did it come up on the internet for you?" the Russian official explained on his Twitter that it happened when he was innocently surfing the web while his boss was away at a meeting. Loskutov stressed that his decision to repost the video on his personal Twitter page the next day had nothing to do with his daily work for the government.
@peterbakernyt Peter, how would I know? I was just monitoring 'the Internets' while my boss was off to a meeting with the Chinese leader

— Dmitry Loskutov (@DLoskutov) February 6, 2014
Ukraine's Security Service has also denied its involvement in disclosure of the leaked telephone conversation of the Assistant Secretary of State for Europe, Victoria Nuland, and US ambassador to Ukraine, Geoffrey Pyatt, the Unian news agency has reported, citing Security Service press-office head, Lada Safonova.

"The Security Service of Ukraine denies any assumptions about Ukrainian intelligence services involvement in the public disclosure of this material," Safonova said on Saturday.
In the much talked-about clip, Washington's new top diplomat for Europe, Victoria Nuland, is heard saying "f**k the EU" while speaking with her counterpart, an American Ambassador to Ukraine, Geoffrey Pyat, on how to end the ongoing political crisis in Ukraine.

The embarrassing conversation revolves around the Ukraine government and President Viktor Yanukovich's offer last month to make opposition leader, Arseniy Yatsenyuk, the new Prime Minister and Vitaly Klitschko, Deputy Prime Minister.

"I don't think that Klitschko should go into the government. I don't think it is necessary. I don't think it is a good idea," Nuland appears to say. In her view, Yatsenyuk should be in charge of the new government, but Klitschko would not get along with him. "It's just not going to work," she notes.

"In terms of him not going into the government, just let him stay out and do his political homework," a male voice - believed to be Pyatt - replies. "In terms of the process moving ahead, we want to keep the moderate democrats together," he adds.

The leaked conversation's powerful climax finally comes when Nuland says she was told that UN chief Ban Ki-moon is about to appoint the former Dutch ambassador to Kiev, Robert Serry, as his representative in Ukraine.

"That would be great I think to help glue this thing and have the UN glue it and you know, f**k the EU," she remarks in apparent reference to their differences over policies.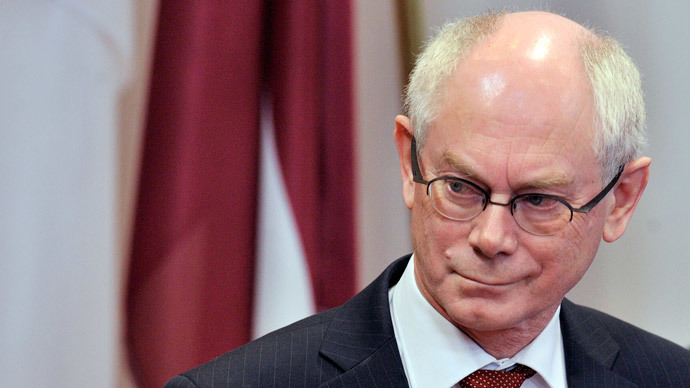 Pyatt replies: "We've got to do something to make it stick together, because you can be pretty sure that if it does start to gain altitude, the Russians will be working behind the scenes to try to torpedo it."

The US State Department has not denied the authenticity of the video, which went viral on the internet, and stressed that Nuland had apologized for the "reported comments." However, she offered no further explanation which had been expected from her during a press conference in Kiev the next day.

"I will not comment on a private diplomatic conversation," she told reporters after talks with Ukrainian President Viktor Yanukovich and opposition leaders.

Instead of apologizing for plans to meddle with politics in Ukraine, US diplomats have chosen to accuse Russia of leaking the recording. White House spokesman Jay Carney said on Thursday that Loskutov's post clearly pointed to Moscow's possible involvement.

US State Department spokeswoman, Jen Psaki, has also attacked Russian officials for promoting the tape as "a new low in Russian tradecraft." She denied that the White House was trying to orchestrate a particular political scenario in Kiev, however.

"Absolutely not," she claimed. "It should be no surprise that US officials talk about issues around the world. Of course we do. That's what diplomats do," Psaki added.

Meanwhile, German Chancellor Angela Merkel has expressed outrage over the leaked phone conversation. Her spokeswoman emphasized on Friday that Merkel considered Nuland's comment "absolutely unacceptable," adding that the European Union will continue with its "intensive efforts to calm the situation in Ukraine."

On Saturday, during an interview on Belgian television RTBF, European Council President Herman Van Rompuy also described Victoria Nuland's comments as unacceptable.

The Head of the European Council pointed out that the EU's policy towards Ukraine has been right, adding that "American colleagues should not interfere with the policy of the European Union."
You can share this story on social media: