US will give money to Ukraine if Kiev makes necessary reforms - Nuland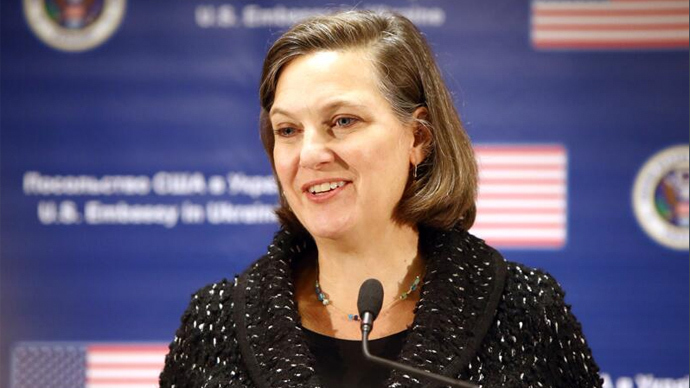 The United States is ready to provide financial support to Ukraine if the country implements the necessary political reforms, senior US diplomat Victoria Nuland said.
"We have had extensive discussions at all meetings concerning support from the international community, including the United States," Nuland, the Assistant Secretary of State for European and Eurasian Affairs said at a press conference in Kiev on Friday.
"[The United States] is ready to support Ukraine if the will quickly move towards the path of protecting human rights, dignity, a de-escalation of the conflict, and political reforms."
Nuland's offer of support follows the leak of an apparently bugged phone conversation in which the senior US diplomat had choice words for the EU's mediation efforts in Ukraine.
On Thursday, a four-minute video - titled 'Maidan puppets,' referring to Independence Square in Ukraine's capital – was reported in the Kiev Post. In the clip, Nuland is allegedly heard saying "f**k the EU" while speaking with the American Ambassador to Ukraine Geoffrey Pyat on how to end the crisis in Ukraine.
US State Department spokeswoman Jen Psaki declined to comment on the tape's contents, but did not deny its authenticity.
"I did not say it was not authentic," she said, adding that Nuland had apologized to her EU counterparts for the reported comments.
Nuland said she would not comment on her conversation with the US ambassador to Ukraine, in which the two discussed who should be in the next Ukrainian government. Nuland did say, however, that the phone recording was "pretty impressive trade craft, hinting that the leak would not hurt relations with the Ukrainian opposition.
Speaking about the impact of the leaked conversation on US-Russia relations, Nuland noted that bilateral ties were deep and complex, and the both sides are working on a range of issues including Iran, Syria arms control.
She further noted that the US and Russia were both working to ensure the country's future.
"We are in talks with Russia over the situation in Ukraine. All of us - Americans and Russians, all of Ukraine's neighbors have an interest in a stable, peaceful and democratic Ukraine. The US is working on it and we hope that Russia is working towards this end as well," she said.
Meanwhile, on Thursday a spokeswoman for German Chancellor Angela Merkel said that Nuland's comments were "totally unacceptable."
German spokeswoman Christiane Wirtz said Merkel appreciated the work of EU foreign policy chief Catherine Ashton, who has attempt to mediate between President Viktor Yanukovich and the opposition.
"The chancellor finds these remarks totally unacceptable and wants to emphasize that Mrs Ashton is doing an outstanding job," Reuters cites Wirtz as telling a news conference.
You can share this story on social media: