US, UK snooped on Italian govt – report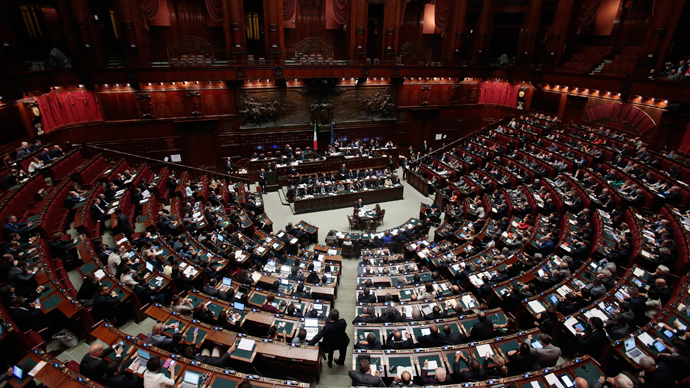 American and British special services spied on Italy's leadership and Defense Ministry, Glenn Greenwald, the journalist who broke the story on NSA whistleblower Edward Snowden, told the L`Espresso weekly.
The US National Security Agency (NSA) was spying on several "European governments, including the Italian one," Greenwald told the magazine.
The revelation comes a day after another Italian news outlet, Corriere della Sera daily, reported that the country's spy watchdog COPASIR learned details of large-scale monitoring of Italians by the NSA. Telephone and computer communications of "millions of Italians" were reportedly being gathered.
But now, according to L`Espresso, it appears that not only the Americans monitored Italians.
British security agencies were also spying on Italians' phone calls, e-mails and internet traffic via the Government Communications Headquarters' (GCHQ) data surveillance program codenamed Tempora – which was earlier exposed by the Guardian newspaper. The UK exchanged the data with NSA, the weekly writes in the preview of an article to be printed in full Friday.
Security services normally refer to possible threats of terrorism to justify their surveillance activities. However, documents leaked by former NSA contractor Snowden prove that it is not always the case, L`Espresso writes.
For instance, London was also interested in information regarding the "political intentions" of foreign governments, including that on possible proliferation of weapon of mass destruction – nuclear, chemical and bacteriological – among "hostile nations." British priorities also included advanced military technology which could include Rome's trade deals with Arab countries, the magazine said. L`Espresso also suggests that the information could possibly have been used to cause damage to British businesses' competitors. 
Speaking about possible reasons behind London's interest in spying on NATO member Italy, the magazine recalled the differences in views between the two countries prior to the intervention in Libya in 2011. The then-Prime Minister Silvio Berlusconi opposed the alliance's mission and became the first Western leader to voice serious doubts about success of the NATO operation. 
According to the weekly, Italian intelligence was aware of their British colleagues' activities but no further details were given in the report. 
Documents confirming NSA's snooping on Italian government and key ministers may be made public in the next few months, L`Espresso said.
Foreign security agencies tapped undersea fiber optic cables, including the South-East Asia - Middle East - Western Europe 3 (SeaMeWe3) and the South East Asia–Middle East–Western Europe 4 (SeaMeWe4) cables, which have terminals in Italy, the magazine reported Thursday.

When asked to comment on the L`Espresso report, Prime Minister Enrico Letta said that it was "inconceivable and unacceptable that there should be acts of espionage of this type."

Greenwald, an American investigative journalist based in Brazil, has been steadily releasing swathes of secret documents from Snowden, and announced earlier this week many more revelations to come.
A day earlier, a new scandal over the NSA's alleged snooping on Europeans erupted. The German government said it had potential evidence that American agencies tapped Chancellor Angela Merkel's mobile phone. Berlin has demanded explanations from US officials, adding that if the information proved to be true, it would undermine relations between the two powers. Merkel called President Barack Obama by phone to complain about the snooping, but he assured her that his country was not monitoring her communications.
You can share this story on social media: