NSA tracked 46mln Italian phone calls - report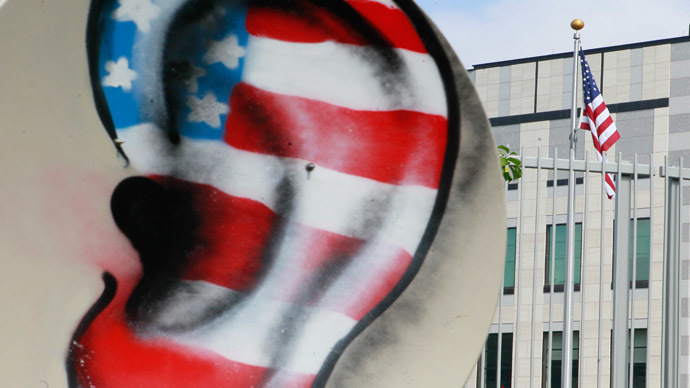 The NSA bugged 46 million phone calls in Italy in a month, according to digital library host Cryptome. The report is the latest in the revelations that the agency tapped hundreds of millions of phone lines across Europe. 
The snooping, between Dec. 10, 2012 and Jan. 8, 2013, reportedly did not appear to track the content of calls but rather telephony metadata, including the origin and duration of the calls. 

The alleged monitoring of citizens' phone calls follows an article in the Italian weekly, L'Espresso, which claimed that US intelligence had monitored Italian telecoms networks, targeting the government and companies as well as suspected terrorists.
Britain's Government Communications Headquarters (GCHQ) also reportedly monitored telephone, Internet and email traffic carried through three undersea fiber-optic cables in Italy as a part of its Tempora program. 
"In this mass collection, our secret services had a role," the publication cited Glenn Greenwald, the journalist who helped publish leaked documents obtained by NSA whistleblower Edward Snowden, as saying. 
Italian Prime Minister Enrico Letta said Thursday that the alleged monitoring of Italian telecommunications by US and British intelligence would be both "inconceivable and unacceptable."
Letta questioned US Secretary of State John Kerry about the reported bugging during talks in Rome on Wednesday. 
Ahead of an EU summit Friday, Letta said: "Obviously, all checks should be done, but we want the whole truth. It's not acceptable or conceivable that there are activities of this kind."
In regards to the Cryptome report, Italian intelligence agencies had no information on the alleged monitoring and were unable to confirm it had taken place. 
A statement released by an Italian parliamentary committee tasked with state security, however, said there was a difference between "spying" and "monitoring." 
"There is no evidence that the United States is spying on Italian citizens," the statement from the Parliamentary Committee for the Intelligence and Security Services and for State Secret Control read. 
The committee said that agreements on cooperation in the security sphere precluded the possibility that either side would spy on each other.
"The implementation of such activities would be a threat to national security," it said.
Meanwhile, Cryptome reported that during the same period, the NSA monitored 361 million phone calls in Germany, 70 million in France, 61 million in Spain, and 1.8 million in the Netherlands. 
With the aid of its Boundless Informant data analysis and visualization system, the agency tracked 124.8 billion calls worldwide in that period. 
The revelation is part and parcel of the deepening scandal over the United States vast spying apparatus. Last week, the Germany daily Der Spiegel reported that Washington was directly spying on least 35 world leaders, including several US allies. 
German Chancellor Angela Merkel's mobile phone has reportedly been on an NSA target list since 2002, US intelligence sources telling Germany's Bild am Sonntag that US President Barack Obama was aware of the snooping.
Despite Obama's assurances that he has ordered a review of the US intelligence gathering operations, a coalition of over 20 countries led by Brazil and Germany are now pushing for a UN resolution condemning the US for its "indiscriminate" wiretapping and "extra-territorial" surveillance.  The countries are also calling for "independent oversight" of electronic monitoring.
You can share this story on social media: