Obama 'knew and approved' NSA spying on Chancellor Merkel – report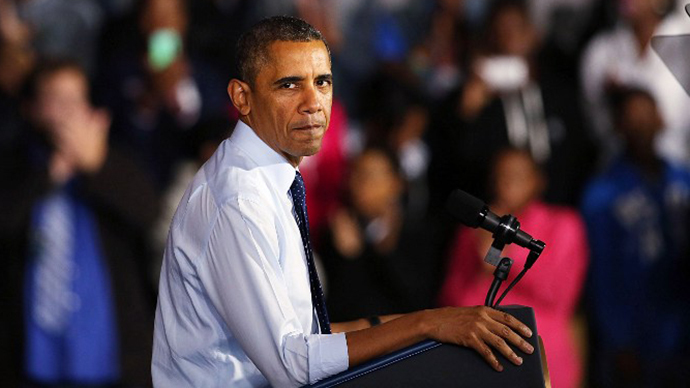 President Obama was aware of NSA spying on German Chancellor Angela Merkel since 2010, German media have revealed. An NSA spokeswoman later denied the allegations.
According to German Bild am Sonntag newspaper, which cited US intelligence sources, National Security Agency chief Keith Alexander briefed Obama on the bugging operation against Merkel in 2010.

"Obama did not halt the operation but rather let it continue," an unnamed high-ranking NSA official told the newspaper.
Moreover, the paper said, the US president later ordered the NSA to prepare a comprehensive dossier on Merkel.

That contradicts earlier reports that Obama personally assured Merkel he didn't know – and that he would have stopped it if he had.

An NSA spokeswoman released a statement on Sunday after the Bild am Sonntag revelations came to light that: "Alexander did not discuss with President Obama in 2010 an alleged foreign intelligence operation involving German Chancellor Merkel," adding that "news reports claiming otherwise are not true."

The newspaper report added that the NSA was listening in to the chancellor's both work phone provided by her political party, and supposedly her secure phone that she only received this summer. This, the paper said, is evidence that the operation continued until the "immediate past."

NSA spy activity was reportedly conducted on the fourth floor of the US Embassy in central Berlin, just a stone's throw from the German government's headquarters.

The NSA's findings, SMS messages and phone calls, were directly reported to the White House in Washington, unlike as usual to NSA headquarters in Fort Meade, Maryland, the paper's source said.

Earlier this week Berlin said that Merkel's communications were "absolutely safe," since she was conducting her important "state political" conversations on encrypted fixed-circuit phone lines. This secure landline phone in her office is allegedly the only one that NSA did not have access to, according to Bild am Sonntag.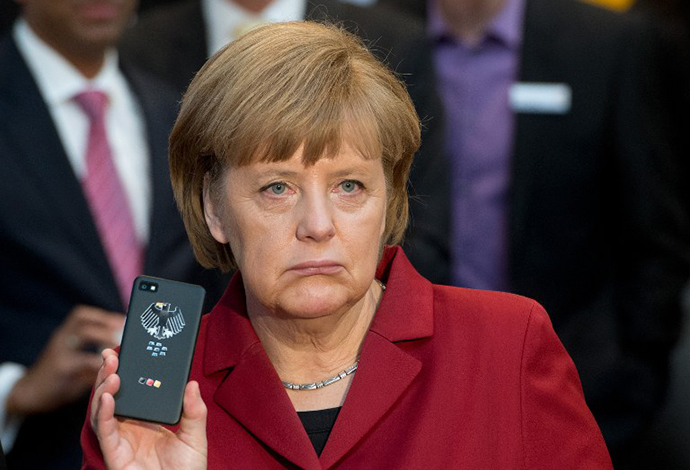 Chancellor Merkel turns out to be not the first German leader to be bugged. According to the report, the NSA also spied on Merkel's predecessor, Gerhard Schroeder, after then-President George W. Bush launched a surveillance program in 2002.

On Saturday, Der Spiegel reported that Merkel's mobile phone had been on an NSA target list since 2002, and had been under the name "GE Chancellor Merkel." The monitoring operation was reportedly still in force as recently as a few weeks before Obama's visit to Berlin in June 2013.

In its report, the newspaper disclosed details of a recent conversation between Obama and Merkel. During the phone call Wednesday, Obama allegedly assured Merkel that he had not been aware that her phone had been bugged, and that if he had known, he would have immediately stopped it.

Merkel made clear to Obama that if the information was proven to be true, it would be "completely unacceptable" and represented a "grave breach of trust," her spokesman, Steffen Seibert, said after the call.
Following the conversation, White House spokesman Jay Carney reiterated Obama's claim that the United States "is not monitoring and will not monitor" the communications of the chancellor.
When pressed on whether spying had occurred in the past, a White House official was unwilling to elaborate further.
"I'm not in a position to comment publicly on every specific alleged intelligence activity," Reuters cites the official as saying.
Germany said Saturday it would send the chiefs of its foreign and domestic intelligence agencies to Washington for talks with the White House and the National Security Agency to investigate the spying allegations.

"What exactly is going to be regulated, how and in what form it will be negotiated and by whom, I cannot tell you right now," German government spokesman Georg Streiter told reporters.

German media, citing sources close to the intelligence services, confirmed Saturday that the German delegation to the US would include top officials from the German secret service.

Both Germany and France have said they want "a no-spy deal" with the US to be signed by the end of the year.

You can share this story on social media: