Illegal alien: Norwegian of the Year facing deportation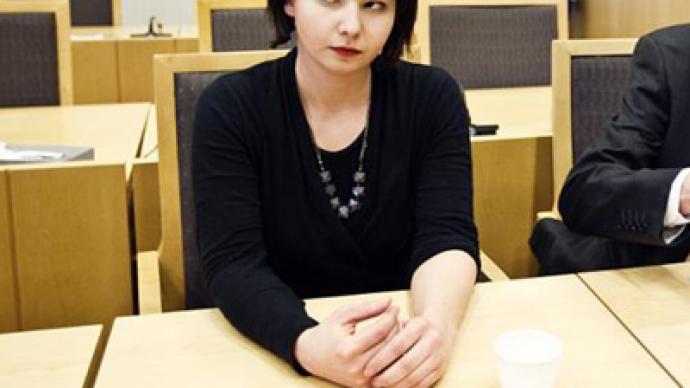 Russian-born Maria Amelie is due to be deported from Norway, where she has lived since the age of 16. She speaks fluent Norwegian and at 25 was voted Norwegian of the Year by an Oslo Magazine.
Maria's case has touched the hearts of ordinary Norwegians, enough to make them turn out repeatedly to rally in support of an immigrant girl who has made an effort to become one of them.Born Madina Salamova in the Russian city of Vladikavkaz, Amelie's parents fled North Ossetia when she was only 12, possibly as a result of a business deal gone wrong. Although well-connected in Russia – Amelie is closely related to the last defense minister of the Soviet Union, Yevgeny Shaposhnikov, – her family sought asylum outside Russia. After unsuccessfully applying for asylum in Finland, the Salamovs arrived in Norway. There they again sought asylum, but were refused and decided to remain as illegal immigrants.  Amelie reportedly learnt Norwegian in a matter of weeks, received a master's degree and wrote a book on the plight of illegal immigrants in Norway.Last week she learned that her asylum application was turned down when police arrived at a lecture she was giving and arrested her."Her situation was very particular, because she came here as a child, she has extraordinary integration into Norwegian society, she's very active in music and literary festivals, an extremely active Norwegian youth, " said Amelie's lawyer, Brynjulf Risnes. " And she told me she hadn't even talked on the telephone to anyone in Russia since she came to Norway, more than 10 years ago." Despite public protests in support of Amelie's case, the government is standing firm. Ironically, Norway has recently upped the number of deportations in response to public criticism that its treatment of illegal immigrants was too lenient.  In 2010, it deported 38% more foreigners than the year before.  And the Justice Ministry insists the law must apply to everyone."Everyone gets a thorough examination of that application, and that is the case for each and everyone who applies for asylum," said Pal Lonseth, Ministry of Justice State Secretary. "But the point is, in this case and in other cases, if that application is rejected, those who are rejected have to return.  We prefer of course they do this voluntarily, but if they don't, they have to be sent out of the country by force."However, Amelie's lawyer insists that she has not had a fair hearing. Risnes said he submitted her asylum claim to the authorities, and the first he heard of the application being rejected was when five police officers turned up to arrest Amelie after a speaking engagement.Political party The Christian Democrats says Maria Amelie is a prime example of why the law on illegal immigrants should be changed. "Now we see there is a need for prioritizing and taking into consideration what is best for the children," said party member Geir Bekkevold. "We have to remember that Maria Amelie was a child when she came to Norway, and there are a lot of children here in Norway who are in the same situation as she was when she came here. And this case shows we need a change in the way we treat asylum children."While Maria Amelie is battling for her right to stay in the country she calls her home, her case has been highlighted along with that of another failed asylum seeker, Mullah Kreker.  Former leader of a Kurdish terror group, Kreker has been declared a threat to national security and is on the US and UN terrorist list.  Although he has now volunteered to go back to Iraq, Norway won't deport him to a country that carries the death penalty."It's a paradox to see this fantastic girl that everyone loves being sent out and this person who is not very popular, to say the least, and a constant nuisance to Norwegian society, being able to stay," said Risnes.The EU's asylum policy has come under fire recently for turning a blind eye to terrorism suspects and people linked to Al Qaeda. In 2010, 26 people were arrested in Belgium, the Netherlands and Germany in connection with a terrorist plot as a result of a Europe-wide investigation. Those detained had been allegedly raising funds and recruiting for worldwide jihad and Chechen terrorist groups.
You can share this story on social media: