Five arrested in Denmark over suspected "Mohammed cartoon" terror plot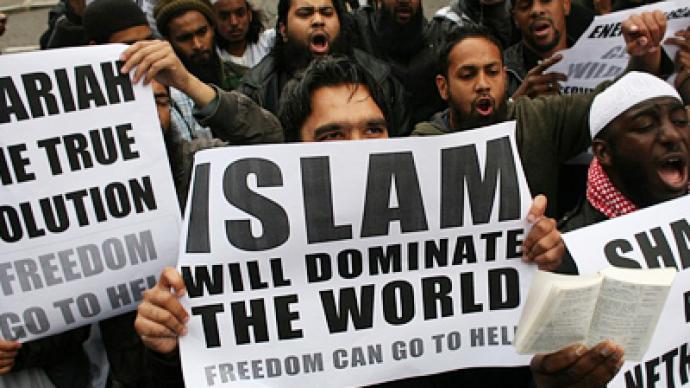 Danish police are investigating what they call the most-serious terror plot ever attempted in the country. Five suspected Islamist militants have been arrested for allegedly planning a gun attack in Copenhagen.
Their target was the office of the newspaper that printed the controversial cartoons of the Prophet Mohammed five years ago.Police say the suspects intended to break into the building and to kill as many people as possible. The publication of the cartoons, one of which depicted the Prophet Mohammed with a bomb-shaped turban, invoked the fury of Muslims around the world.The arrests are the latest in a series throughout the year which have put European nations on high alert over the spread of Islamic radicalism.
Radical Islam spreading across EU
Over a year of investigations and a massive police raid in the end has brought results. 26 people have been arrested in Belgium, Germany and the Netherlands. Belgian, Dutch, Moroccan and Chechens – they all are suspected of recruiting so-called Jihadist candidates and financing terrorist organizations right from the heartland of Europe. Police mission a success? Absolutely! But is the battle over?"It's just a visible part of the iceberg. It's huge, there is a whole machine behind this," says Muslim convert Edouane Ahrouch.Edouane Ahrouch was born in Belgium in a family of Christians and converted to Islam when he was 19.He says he did it of his own free will because it simply provided the answers he could not find in other religions.According to Ahrouch, Islam teaches peace and tolerance, but unfortunately, due to generally poor knowledge about it, it can be used to teach the exact opposite."There are really extreme imams acting in Europe," Edouane Ahrouch says. "And the problem is that people who don't know Arabic and don't understand the Muslim philosophy end up in the arms of these imams who come from Saudi Arabia or Egypt."A former French intelligence officer, Claude Moniquet, now heads a company advising governments and corporations on how to deal with terrorism and extremism-related threats. Based in Brussels, he claims the spread of Islamic extremism is happening right in front of the authorities, veiled from their attention by its privacy."They'll say you are not a good Muslim because you don't pray five times a day. You drink alcohol. Your wife is not veiled. And you do nothing for your brothers in Chechnya, Palestine, Iraq and so on," says Claude Moniquet from European Strategic Intelligence and Security Center, Brussels. "It begins in the families, in the quarters, the streets and mosques." In the immigrant district of Brussels mostly populated by Muslims, around a quarter of the active working-age population from 18 to 35 is unemployed, according to official figures.Unofficially this number is even higher, which makes such districts prime territory for recruitment.The lack of education about Islam and little work in many European Muslim communities seem to have become the driving force behind the spread of extremism. With a relaxed Belgian attitude towards granting asylum, the flow of newcomers is likely to continue.Danish journalist and writer Helle Merete Brix thinks that a multi-cultural society should be quite possible in the modern world, if newcomers accepted European civilization and dealt with that society's attitude to religion and freedom of speech. "What we really want in Europe and what many people, I think, imagine when they speak about multiculturalism, is that you want to preserve the freedom of speech we have in Europe, the freedom of religion, the pluralistic societies. We are sort of open to newcomers, but you have to have…a main culture, sort of a lead culture," she says. "If you move to Europe it is very important that you accept the European civilization. One of the cornerstones of this civilization is certainly the freedom of speech."
It is clear that , unless more effort is made to help Muslims integrate into a multi-cultural society, the extremism threat will remain, no matter how many arrests are made.
You can share this story on social media: