Sarko to suffer in the name of free speech
Published time: 30 Oct, 2008 07:47
Edited time: 30 Oct, 2008 10:47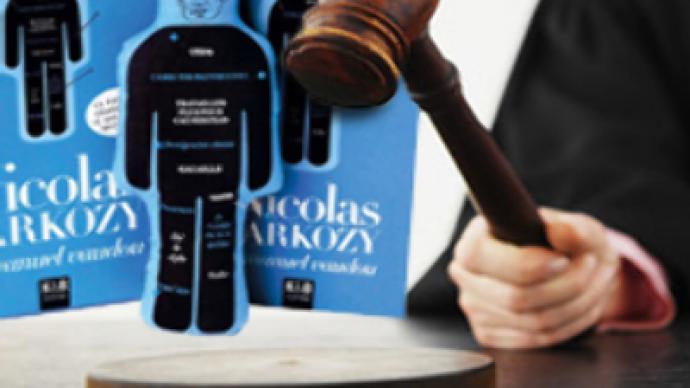 This week a judge in France declared that a voodoo doll bearing the image of Nicolas Sarkozy is legal, stating that it was "within the right to humour," despite the president's fervent case against it.
The doll's body is printed with Sarkozy's most infamous quotes, such as "Work more to earn more," and "Get lost, you pathetic arsehole." It comes with a satirical biography of him as well as a dozen pins to stick into the doll.
French law grants every individual the right to his own image, regardless of status or fame, and though the defence lawyer argued that the doll violates Sarkozy's right, the court decided that it did not constitute an attack on human dignity or a personal attack, and therefore decided in favour of the doll's manufacturer, K&B, and in favour of the freedom to satirise.
In the past, courts in France have sided with the presidents who sought to defend their image, but freedom of expression has become a heated national issue in the last couple of years, following the outcry over cartoons depicting the prophet Mohammed in Charlie Hebdo, a French weekly featuring humorous political cartoons.
Most countries in Europe banned these contentious portrayals of Mohammed, but France's courts strongly supported the freedom of the press to lampoon anyone and everyone, and allowed the newspaper to publish them. A great test of France's principles of free speech, the decision was considered by many to be an important victory.
"I prefer the excess of caricature to the absence of caricature," Sarkozy stated at the time of the controversy. Apparently, this is only true for caricatures which do not use his face. The voodoo doll case was the sixth case of its kind pursued by the president this year.
Voodoo dolls, which are a Hollywood invention and not a part of the actual Voodoo religion, have long been used in the U.S. as a comic way to vent frustration. The George W. Bush doll on Amazon comes with the same voodoo kit and bears a more striking resemblance to the president than the Sarkozy's version, yet there has been no such legal battle from Bush. Surely, were he to take offence at the personal mockery, he would have to embark on much more than just six cases.
Still, even if he wanted to, George W. Bush would not be able to challenge an even more outrageous parody of himself, since the laws of the United States protect all forms of freedom of speech, including satire, but does not protect individuals as do the laws of France. Everyone's face and image are fair game, which is why websites such as Pinhead Voodoo Dolls (www.pinheadvoodoodolls.com) can sell you the chance to stick pins in an effigy of everyone famous who has ever made you really mad. You can even custom order a voodoo doll of your boss.
Laura Rose for RT