N. Korea threatens South with 'final destruction'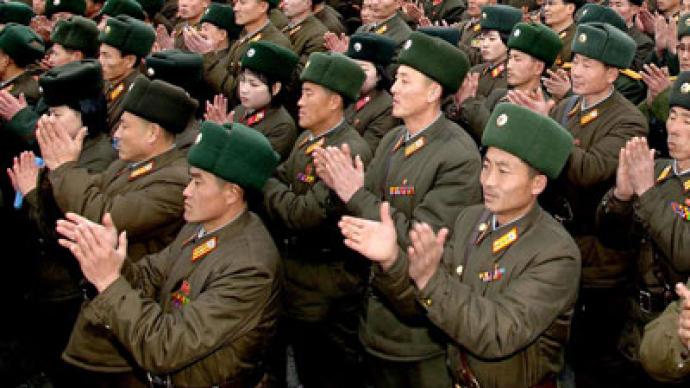 North Korea has threatened the South with 'final destruction' during a debate at the UN Conference on Disarmament on Tuesday following an underground nuclear test, Reuters reports.
The North has warned that it could take "second and third steps" after a nuclear test conducted on February 12. "As the saying goes, a new born puppy knows no fear of a tiger. South Korea's erratic behavior would only herald its final destruction," North Korean diplomat Jon Yong-ryong was cited by Reuters.The North Korean diplomat has stressed that Pyongyang had recently taken a "resolute step for self-defence" that Jon described as "strong counter-actions to a foreign aggressor.""If the US takes a hostile approach toward the DPRK to the last, rendering the situation complicated, it (North Korea) will be left with no option but to take the second and third stronger steps in succession," he said.North Korea's statement has been met with criticism from other states. US Disarmament Ambassador Laura Kennedy called the language of the statement "incredibly inconsistent with the goals and objectives.""I also was particularly struck by the phrase 'heralding the destruction of the Republic of Korea' and find that language incredibly inconsistent with the goals and objectives that this body is intended to pursue," Kennedy said.Britain's Ambassador Joanne Adamson also described the statement "completely inappropriate" saying that the discussion with North Korea was heading in the wrong direction."It cannot be allowed that we have expressions which refer to the possible destruction of UN member states," Adamson said.Last week UNSC held an emergency meeting called by South Korea and issued strong condemnations of the North Korean nuclear test, calling it "grave violation of Security Council resolutions."The council said it would take "significant action," saying that members of the Security Council would begin work immediately on appropriate measures in a resolution.Russia will oppose new economic sanctions on North Korea, Russian Deputy Foreign Minister Gennady Gatilov stated Tuesday."We are against measures that would affect normal trade and economic relations with North Korea. We understand our Chinese colleagues have similar views," he said at a news conference.Gatilov at the same time stressed that "measures of pressure on North Korea" should be first of all focused at limiting nuclear proliferation of "nuclear arms and rocket launches."
You can share this story on social media: