'Miserable destruction': N.Korea threatens US over joint drills with Seoul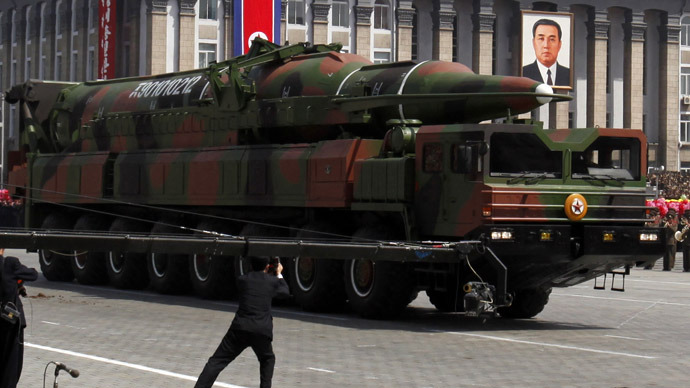 North Korea has warned the US military against conducting scheduled joint drills with South Korean troops, accusing them of "igniting war" and threatening them with "miserable destruction."
"If your side ignites a war of aggression by staging the reckless joint military exercises...at this dangerous time, from that moment your fate will be hung by a thread with every hour," Pak Rim-su, chief delegate of the North Korean military mission to the inter-Korean truce village said.
In a phone message to Gen. James Thurman, the commander of the US Forces Korea, Pak said that "those igniting a war are destined to meet a miserable destruction."  The message was quoted by the Korean Central News Agency on Saturday.
The US-South Korean Combined Forces Command annual drill is scheduled to kick off on March 11. The command post exercise, Key Resolve will involve 10,000 South Korean and 3,500 US troops.
Another joint military exercise, Foal Eagle, one of the largest military exercises in the world, will include about 200,000 Korean troops and 10,000 US forces. The two-month exercise starting March 1 includes involving land, sea and air maneuvers.
Pyongyang also vowed to modernize and expand its nuclear activities if the US "fails to choose a correct policy," KCNA reported on Saturday.
The drills and the warning come at the times when the tensions between Seoul and Pyongyang keep rising. Following North Korea's recent announcement of a successful third nuclear test, South Korean media said Seoul has the capability to produce a nuclear weapon within six months.
The two countries are technically still at war, as the conflict between them in 1950-53 ended in a truce, not a peace agreement.
The latest North Korean nuclear test has also alarmed the US, with Washington calling it a threat to national security and threatening "swift and credible action."
North Korean nuclear activities have been condemned by the UN and many Western nations. Several rounds of sanctions have been imposed on Pyongyang, causing economic isolation.
Meanwhile, North Korea is showing no remorse. Instead Pyongyang blasted the US with its propaganda videos. One of them features US President Barack Obama and American soldiers through a background of flames and ends up with a simulation of a nuclear explosion underground.
"The North's high-level nuclear test aimed at US invaders is a nuclear deterrent to safeguard our sovereignty," one of the captions in the video read.
You can share this story on social media: