Thousands of N. Koreans celebrate nuclear test, more tests planned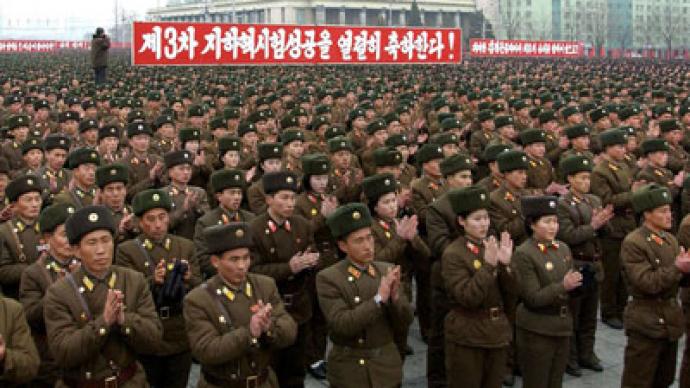 North Korea has reportedly told its primary ally China that it could stage one, possibly two more nuclear tests this year. The report follows a massive, 100,000-strong rally in Pyongyang to celebrate a recent nuclear test.
The tests, which could be accompanied by another rocket launch, are intended to push the United States into nuclear talks with Pyongyang."It's all ready. A fourth and fifth nuclear test and a rocket launch could be conducted soon, possibly this year," the source with direct access to the top levels of government in both Beijing and Pyongyang told Reuters. He added that the fourth nuclear test would have an equivalent of 10 kilotons of TNT, making it much larger than the previous test – the third since 2006.Troops and civilians alike flooded into Pyongyang's Kim Il-sung central square on Thursday to celebrate the country's latest launch, Korean News Agency (KCNA) reported on Friday.High-ranking government officials spoke at the rally, extolling praise for Supreme Leader Kim Jong-un for the "brilliant fruition of the extraordinary decision," KCNA wrote, adding that "it serves as a striking demonstration of the might of a scientific and technological power and a military power capable of manufacturing any strike."Pyongyang's third nuclear test drew immediate condemnation from the UN, which introduced a new set of sanctions against the rogue nation in January.
Fueling fears over North Korea's nuclear weapons ambitions, US experts reported on Thursday that Pyongyang was upgrading one of its two rocket launch sites. Analysts from the US-Korea Institute at the John Hopkins School of Advanced International Studies in Baltimore said "important progress" had been made at the Tonghae Satellite Launching Ground since last October.The Institute revealed that based on satellite imagery, the modifications would allow North Korea to test rockets "perhaps three to four times the size of the Unha [launched in December 2012] when construction is completed, possibly in 2016.""That activity may be related to another round of modifications intended to support future launches of the Unha rocket or possibly another liquid-fuelled missile," the Institute wrote on its website.The report also hinted that North Korea may be receiving aid from Iran, as the Korean site resembles the Semnan Launch Complex in Iran
South Korea on guard
In the face of the growing nuclear threat posed by its northern neighbor, South Korea has pledged to develop longer range missiles to strike at Pyongyang in the event of an attack.Seoul had previously been restricted to missiles with a range of 300km, as part of an agreement with the US; this restriction has now been extended to 800km. Currently, both Seoul and Tokyo and trying to determine whether Pyongyang's new test was a success. South Korea has deployed specialists on the ground to test for elevated radiation levels, while Japan has sent fighter jets to gather atmospheric samples.Experts are keen to discern if the test was carried out with uranium or plutonium, as a uranium nuclear device would represent a significant technological advance for the rebel nation.
You can share this story on social media: