No sex please, we're German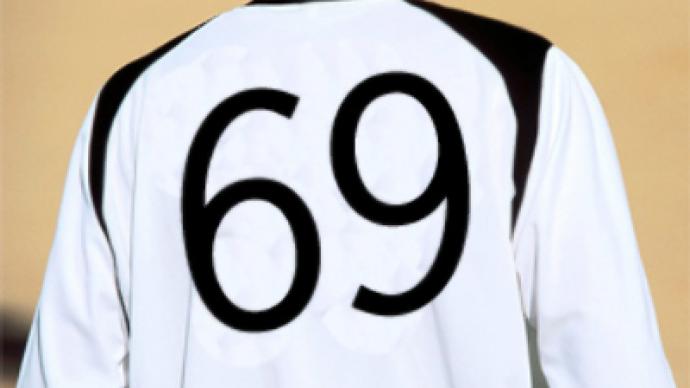 German football officials have forbidden FC Karlsruhe defender, Dino Drpic, from playing uner the number 69, AFP news agency reports.
He and his wife, Croatian Playboy star, Nives Celzijus, chose the 'sexy' number to boost sales of Drpic's jerseys. Sixty-nine or 69 is a term commonly used to describe a certain sex position.
The club liked the idea but the German Football League (DFL) ruled against it, saying the '69' combination wouldn't be visible from a distance.
Dino Drpic moved to German Bundesliga side FC Karlsruhe from Dinamo Zagreb in Croatia at the beginning of this year. So far he has played just two matches for his new team, both wearing the number 11.
The German media has labeled the Drpics the 'Croatian Beckhams' as the couple are regularly featured in the tabloid press and were already media darlings in Croatia.
According to the Sunday Times newspaper, Drpic was forced out of Dinamo Zagreb after Nives boasted on TV that she and her husband made love on the pitch of Maksimir Stadium – where the Croatian national team and Dinamo play their home matches.
Twenty-seven-year-old Dino Drpic spent nine seasons with Dinamo Zagreb before moving to Germany. He played in 211 games and scored 13 goals for the club.
He's won just one international cap, in a friendly against Slovakia back in 2007.
You can share this story on social media: