At least 8 killed, over 100 wounded in Nigeria church bombing and riot backlash (PHOTOS)
Published time: 28 Oct, 2012 14:38
Edited time: 28 Oct, 2012 20:21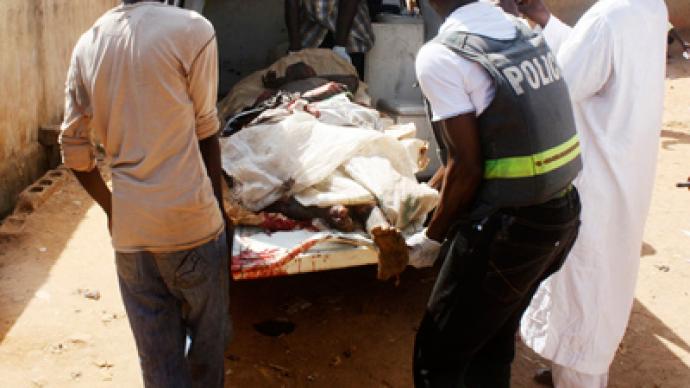 At least 7 people were killed and over 100 wounded in a suicide bombing of a Catholic church in Nigeria. The terror attack sparked an outburst of mob violence and further deaths, with one man burned alive.
­A suicide bomber drove a vehicle packed with explosives into a Catholic church in Kaduna, an ethnically and religiously diverse city in central Nigeria.
The walls of the church partially collapsed due to the powerful blast. Witnesses said the explosion also damaged other nearby buildings.
Dozens of people were wounded in the attack, with a reported death toll of at least seven. Police cordoned off the blast zone.
Shortly after the blast crowds of angry Christians armed with clubs and knives massed in the streets and attacked Muslims. At least one person was killed by the mob violence when an angry crowd set him on fire.
The rioters beat a motorcycle taxi driver near the church, pinned him underneath his bike and set him on fire, AFP reported. Two more people near the church were also reportedly killed by the mob.
No one claimed the responsibility for the bombing, but radical Islamist sect Boko Haram is believed to be behind the attack.
Boko Haram was responsible for terror attacks in Nigeria that have killed more than 1,000 people since 2009. The extremist group is fighting to turn Nigeria into Islamist state.
Nigeria, which is almost equally split between Christians and Muslims, has been wracked with sectarian violence in recent years. The country frequently witnesses terror attacks against Christians, followed by reprisal violence targeting Muslims.

A view shows St. Rita's Catholic church in the Malali village, after a bomb attack, in Nigeria's northern city of Kaduna October 28, 2012 (Reuters / Stringer)
Victims of a bomb attack wait for treatment at Garkuwan hospital in Nigeria's northern city of Kaduna October 28, 2012 (Reuters / Stringer)
Victims of a bomb attack wait for treatment at Garkuwan hospital in Nigeria's northern city of Kaduna October 28, 2012 (Reuters / Stringer)
The victim of a bomb attack receives medical attention from hospital officials at Garkuwan hospital in Nigeria's northern city of Kaduna October 28, 2012 (Reuters / Stringer)