Blasts rip through newspaper offices in Nigeria, at least 6 killed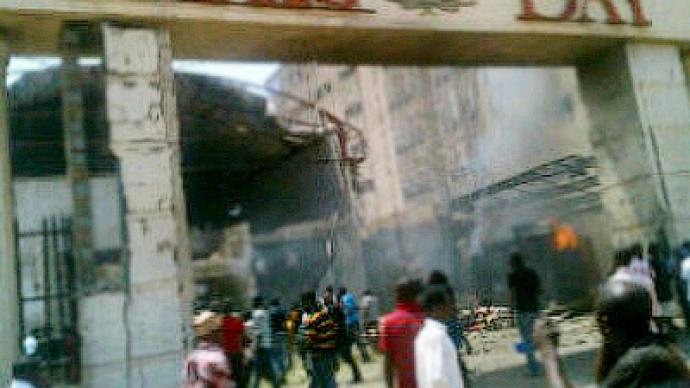 Bombs targeting the offices of a major Nigerian newspaper have gone off in the capital Abuja and the northern city of Kaduna. Emergency officials say at least six people were killed in the twin attacks.
A spokesman for the Nigerian Red Cross said a suicide bomber crashed through the front gates of the ThisDay office in Abuja in an explosive-laden vehicle and hit the newspaper's reception area.  The chairman of the This Day editorial board Olusogen Adeniyi told Reuters reports at least three people were killed in the blast.  "The suicide bomber came in a jeep and rammed a vehicle into the gate," Olusogen said."Two of our security men died, and the obviously suicide bomber died too."Government officials say they are trying to get the wounded to hospital. Five members of the newspaper's staff were also reportedly injured.  Three people were also reportedly killed when an explosion rocked the paper's office in the strife-ridden northern city of Kaduna.A car loaded with explosives also attempted to target the office in Kaduna, though eyewitnesses report that people working at the newspaper quickly surrounded the vehicle.Jemilu Abdullahi told AP the driver began shouting there was a bomb inside the car. Upon being allowed to open the trunk, the driver took a device and lobbed it at the crowd, which exploded, Abdullahi said. He also claims at least three died in the attack.Adeniyi said he had received information on a potential bomb terrorist attack back in January and reported it to security agencies. However, he did not realize ThisDay was specifically being targeted.The newspaper is known for its support of current President Goodluck Jonathan, a primary target for the Islamist Boko Haram movement. While the group has been held responsible for some 900 deaths over the past two years, no one has claimed responsibility for Thursday's attacks.
You can share this story on social media: