Night massacre at Nigerian college leaves around 40 students dead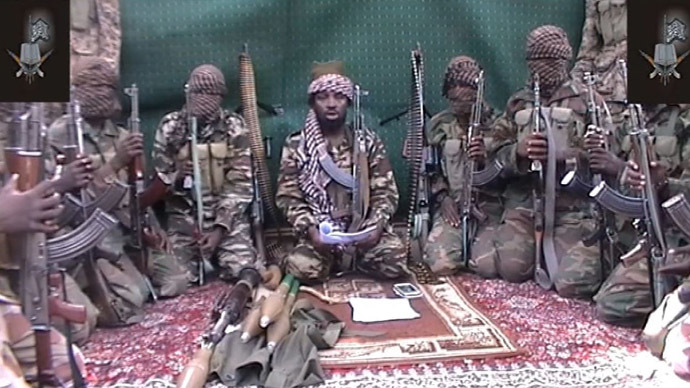 Around 40 students were killed in Nigeria's north-east allegedly by militants from the extremist group Boko Haram. The well-armed insurgents broke into a college dorm at night and opened fire at young people while they were still asleep.
Soldiers recovered 42 bodies and transported 18 wounded students to hospital, according to the latest report by AP, citing a military intelligence official, who insisted on anonymity. Earlier, the college's principal, Idi Mato, suggested that as many as 50 students could have been killed in the assault.

The attack on the agricultural college in rural Gujba of Nigiria's northeastern Yobe state began at 1am local time on Sunday.

"Boko Haram terrorists… went into the school and opened fire on students," the military spokesman in Yobe, Lazarus Eli, told AFP.

The extremists rode into the college in two double-cabin pickup all-terrain vehicles and on motorcycles, some dressed in Nigerian military uniforms, according to AP citing a surviving student, Ibrahim Mohammed. Witnesses say the extremists were apparently aware of the college layout, as they left the female dormitories intact.

"They came with guns around 1am (24:00 GMT) and went directly to the male hostel and opened fire on them... The college is in the bush so the other students were running around helplessly as guns went off and some of them were shot down," Ahmed Gujunba, a taxi driver who lives by the college told Reuters.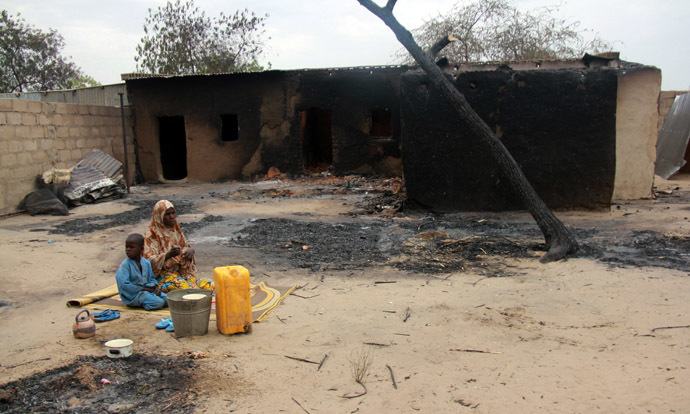 Boko Haram is the Islamist group's popular nickname, which roughly means 'Western education is forbidden'. The militant organization's official title is 'The Congregation and People of Tradition for Proselytism and Jihads' and it has been fighting to create an Islamic state in Nigeria's north since 2009. The group is notorious for targeting civilians.

It is the Islamists' third attack on a school in Nigeria's northeastern state in four months. In July, a similar assault left 41 students and an English teacher at a boarding school dead.

A state of emergency was declared in northeastern part of the country on May 14, with thousands of government troops being sent to the region. Following the most recent massacre, Ibrahim Gaidam, governor of Yobe state, suggested that the military crackdown was ineffective.
 
"Although there is [an] increase in troop movement and military hardware deployment in the northeast, people are yet to see the kind of action on the ground that effectively nips criminal and terrorist activities in the bud," he said in a statement.


Editor at Pan-African News Wire, Abayomi Azikiwe, told RT that extremism is fostered by poverty because it acts like a "breeding ground for extremists in Nigeria for groups like Boko Haram." In order to try to fix the situation, "there needs to be a rethinking of distribution of wealth in Nigeria. There also needs to be a process of national reconciliation inside the country."
Further conflict enables possible US involvement, argued Azikiwe. "The intervention from Islamic forces from around the world internationalizes the conflict. It also provides a rational and justification for deeper US intervention in Nigeria...which is of course the largest oil exporter out of Africa into the US."
President Goodluck Jonathan on Sunday promised a change in tactics concerning fight against extremists, not going into detail though.  
 
"When I declared a state of emergency things calmed down. Now they are looking for soft targets ... If the drum is changing, we must change step," he said as cited by Reuters. "I assure Nigerians we'll do what is required to protect them."

The president compared the attack on the Nigerian college to last week's assault on a shopping mall in Kenya's capital, which left 67 people dead. Boko Haram has said some of its fighters trained with Al-Shabab in Somalia.

Ayo Johnson, founder of the Viewpoint Africa website, believes the Nigerian attack is indicative of the general rise in Islamism in Africa.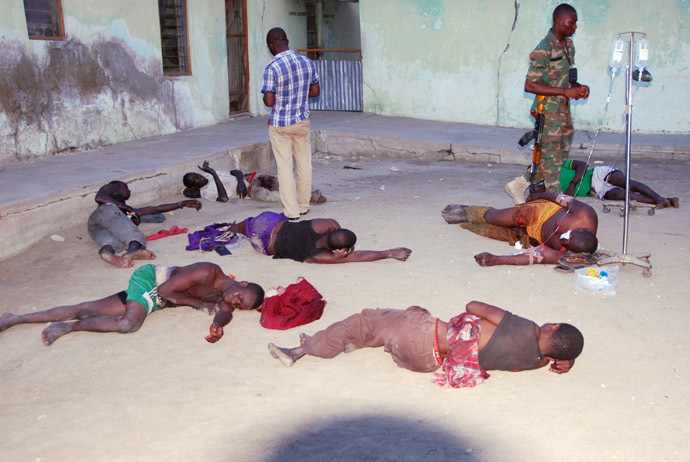 "All these groups are joined together, be it Al-Shabab in Somalia or wider MNLA in Mali or MUJAWA [Movement for Unity and Jihad in West Africa] across West Africa – all these jihadist cells are blueprints of Al-Qaeda. Their focus is the same, their ideology is the same. They also want to do the spectacular attacks. They are always keen on grabbing the headlines," Johnson told RT.

Africa has been destabilized following a series of the Arab spring revolutions there, according to Lawrence K. Freeman, editor of Executive Intelligence Review magazine, who spoke to RT in June.

"And what they do know is that the overthrow of Colonel Gaddafi, led by Obama and NATO, has been a catastrophe for North and West Africa in supporting various elements that have now allowed the destabilization of many of these countries, especially with the arms and the flow of Tuaregs and terrorists coming out of Libya," Freeman said.

Meanwhile, an Islamist leader, Abubaker Shariff Ahmed, also known as Makaburi (Graveyard), who allegedly recruited killers to the group that massacred civilians at a mall in Nairobi warned in a Saturday interview to The Daily Mail that the Westgate siege was just the beginning of a series of attacks in revenge for Western intervention in Muslim countries and that Britain was the next target.

You can share this story on social media: