Arab Spring sequel? Nigeria faces mass anti-government protests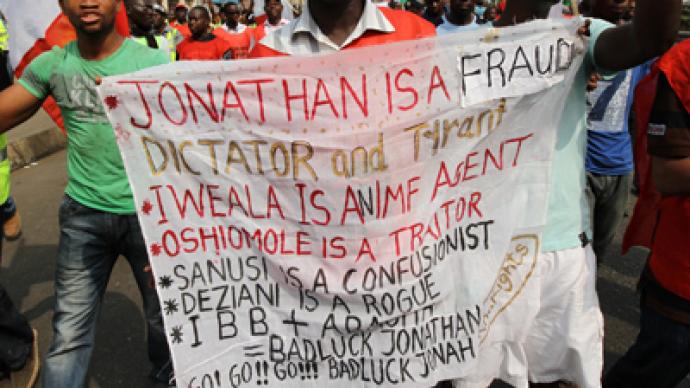 Nigeria is facing mass protests after the government canceled a fuel subsidy, effectively doubling gas prices. With anti-government feeling rapidly growing, some fear the demonstrations may soon turn violent, repeating the Arab Spring scenario.
Tens of thousands of people have been demonstrating in cities across the country since Monday, demanding fuel prices revert to their previous level before the authorities introduced the increase.The demonstrations, which were originally triggered by the removal of the subsidy, later became generally anti-government in their mood, with further demands being made.Protesters held anti-government banners calling President Goodluck Jonathan a 'dictator' and a 'tyrant' and demanding an end to corruption and poverty in the country.Despite its oil resources, Nigeria, Africa's most populous country, does not have a high standard of living. Half of its population of 160 million live on less than $2 a day. Following the increase in petrol prices, the cost of food and transportation has also skyrocketed, thus adding to people's hardships.The authorities say removing subsidies will save the national budget about $8 billion per year, which will then be spent on projects to improve the country's infrastructure.But these promises do not convince protesters, who are fed up with the situation in the country. One protester, who was carrying a banner reading "Go Jonathan or die like Gaddafi," told the Associated Press he was ready to storm the presidential palace.
Omoyele Sowore from Saharareporters.com online news magazine told RT that the uprising in Nigeria might turn into a revolution if protesters' demands are not met. "It can become a full-blown revolution if the government become intransigent and refuse to listen to yearnings and aspirations of the people, which is the first measure to put our need to roll back this criminal increase in prices of gasoline that is strangling the Nigerian people, especially the 99 per cent of Nigerians who are incapable of surviving on that with these strangulating economic policies pushed by the World bank, the IMF," he said.
You can share this story on social media: