Medvedev visit to Nigeria marred by attacks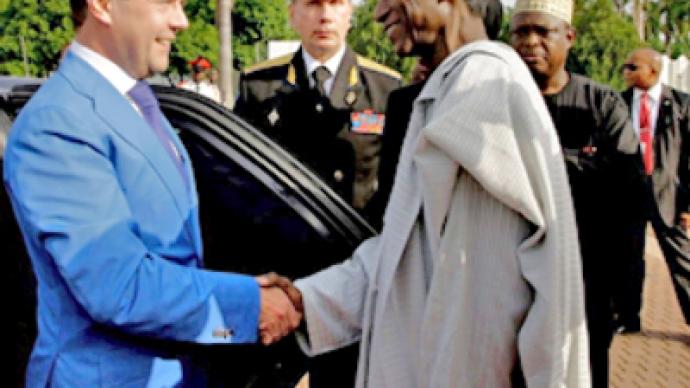 President Medvedev's trip to Nigeria was explosive - literally. While the government honored the Russian leader with a 21-gun salute, the MEND militant group issued a pointed warning and unleashed a series of attacks
Medvedev arrived in Nigeria and was whisked off to the presidential villa to meet Nigerian President Yar'Adua. He was greeted with an honor guard. The two heads of state signed several agreements, and Medvedev was back in the air before the media could even print stories of his arrival.
But MEND, the Movement for the Emancipation of the Niger Delta, a militant group that claims to act on behalf of Nigerian citizens, did not appreciate what it claimed was the Russian president's sole focus on reaping potential profits.
"You must have been very impressed with Abuja as you rode from the airport to the presidential villa," the group said in a message to President Medvedev. "As you took in the new city and its frenzy of construction projects, you imagined huge potentials for business between Abuja and Moscow."
"I am sure you already know that the region that produced the wealth with which the city has been built remains mired in poverty and lack," MEND continued. "It is because the people who own the resources have no stake that we are now waging a war of emancipation."
Agreements and examples
The six bilateral agreements Yar'Adua and Medvedev reached include one regarding "cooperation in the field of nuclear energy for peaceful purposes," as well as a memorandum of understanding between the Nigerian National Petroleum Corporation and Gazprom, a Russian gas company that claims to be the world's largest.
In a press conference on Wednesday, Medvedev reportedly estimated that Russia's plans could result in billions of dollars of investment in Nigeria. However, Medvedev has little first-hand knowledge of the turf in which he is proposing to operate, and it is therefore unclear whether his estimate includes all of the costs that foreign profit-seeking ventures must pay.
MEND quickly set out to acquaint Medvedev with the business environment.
"Your visit has coincided with Hurricane Piper Alpha which struck again today, Thursday, June 25, 2009 at about 00:25 at the major Shell Bille / Krakama pipeline in Rivers State to commemorate your visit," the group said. "Cawthorn Channel 1, 2 and 3 flow stations feeding the Bonny export terminal have been effectively put out of service."
These attacks on Shell's oil infrastructure are part of MEND's emancipation mission code named "Hurricane Piper." MEND has vowed to bring Nigeria's oil industry to its knees since the government and foreign companies have not done enough to lift the regions' citizens out of abject poverty or even provide adequate jobs.
The campaign began in May and has already taken a serious toll on the industry. This week, before the National Assembly, Chevron testified that due to the intense attacks, its production has been cut by a third. Shell testified that sabotage had lowered its production from 350,000 barrels per day to less than 200,000.
"Mr. President, the agreements that you have signed in Abuja are worthless. MEND will ensure that," MEND warned Medvedev. "This is the fate that awaits the gas pipelines you plan to invest in Nigeria if justice is not factored into the whole process."
Michelle Smith for RT
You can share this story on social media: