Russian parliament restarts New START debate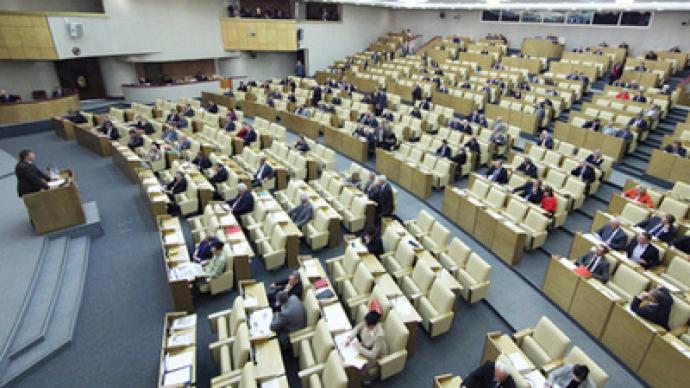 Russian lawmakers are getting together on Friday to reopen debate on a key arms control deal with the US. The New Strategic Arms Reduction Treaty has already been ratified by the US Senate. All it needs now is the green light from Moscow.
The treaty, signed by Presidents Medvedev and Obama in April last year, has already been ratified by the US Senate and now needs a final say from the Russian parliament.During the pact's ratification in Washington the US Senate added 11 pages worth of amendments which are now being considered by Russian lawmakers.Several factors have become issues of concern for the deputies. Pulling out of the treaty in case the US was to breach the agreement and begin increasing its nuclear arsenal has become one of the primary points of debate.The head of the State Duma's Foreign Affairs Committee, Konstantin Kosachov says the risk always exists."This time I believe this risk is quite obvious on the US side – that they will proceed with strategic, not regional, but strategic anti-missile defense systems – not the current president, not the current government, but probably the next president, the next government, which [could] have a completely different strategy on this issue," he said. "And in case it happens, the treaty may be damaged and there may arise conditions for Russia to pull out of this treaty, but we are not there yet, and we still have time to make better agreements and to avoid any misunderstandings, and that will be our ambition."
Also, the relationship between defensive and offensive nuclear weapons is a key point for the Russian State Duma. Also of significance is the deputies' desire to ensure that the remaining part of Russia's nuclear arsenal is maintained and developed.The third reading is scheduled for January 25 and, should all the concerns be allayed, the treaty will be ratified after the Russian lawmakers agree on any amendments.The chairman of the Russian Parliamentary Committee for International Relations, Konstantin Kosachev, has earlier said that the proposed Russian amendments to the document are not actually changes, but rather an interpretation of the treaty, just like the US ones.
You can share this story on social media: