Time running out for peaceful solution to Iran problem - Netanyahu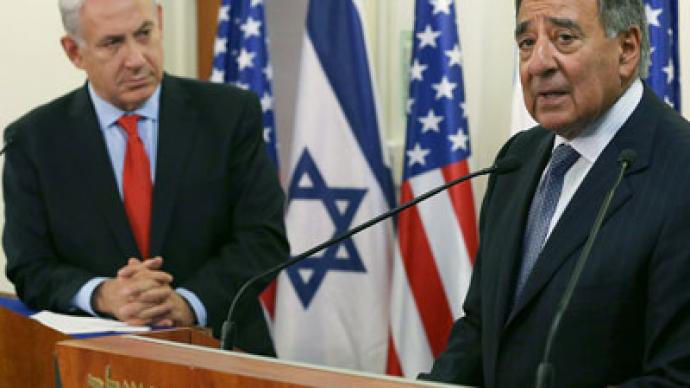 Israeli Prime Minister Benjamin Netanyahu said sanctions were not curbing Tehran's nuclear ambitions. He waved off the visiting Pentagon chief's advice to stick to a diplomatic resolution of the crisis.
At a Wednesday meeting with US Defense Secretary Leon Panetta in Jerusalem, Netanyahu suggested that Israel's patience with Iran was reaching the end of its tenure.  

"Right now the Iranian regime believes that the international community does not have the will to stop its nuclear program," he noted. "This must change, and it must change quickly because time to resolve this issue peacefully is running out."

He stressed that while the sanctions were hurting Iran's economy, they were failing to force it to abandon its nuclear program.

"Neither sanctions nor diplomacy has yet had any impact on Iran's nuclear weapons program," Netanyahu said.

Panetta stressed that non-military means of resolving Israel's issue with Iran's nuclear ambitions had yet to be exhausted. Nevertheless, he repeated that the United States was keeping all options, a euphemism for military attack, on the table.

"I want to reassert again the position of the United States that with regards to Iran, we will not allow Iran to develop a nuclear weapon, period," Panetta said. "We will not allow them to develop a nuclear weapon. And we will exert all options in the effort to ensure that that does not happen." 

Panetta also met with his Israeli counterpart Ehud Barak in Ashkelon, a city near the border with the Hamas-controlled Gaza Strip. While Barak said he appreciated America's continued support of Israel, he was also unyielding in his position on Iran, saying that the probability that sanctions would compel Iran to give up its nuclear ambitions was "extremely low."

Barak also showed and briefed Panetta on an air defense system known as the Iron Dome, into which the United States had invested over $200 million. The system is designed to shoot down short-range rockets, mortars and artillery shells fired into Israel from Gaza and southern Lebanon. Panetta, in turn, said the Obama administration was working with the constructors of the F-16 fighter jet to include a special package of enhancements in the batch that Israel intends to buy.

Panetta's trip to Israel comes on the heels of Republican presidential hopeful Mitt Romney's visit, during which he berated the Obama administration for being too soft on Iran. Romney also said he would respect any decision taken by Israel on the matter if he is elected president.

In the meantime, President Obama announced a new set of sanctions against the Islamic Republic, targeting the country's oil sector. The new measures intend to punish banks, insurance companies and shippers involved with Tehran's oil trade.

Israel has repeatedly asserted its right to attack Iran without US backing. It believes Tehran is trying to build nuclear weapons to destroy the Jewish state. In separate interviews with Israeli news channels Tuesday, Netanyahu stressed that the decision to attack Iran would be that of elected, and not military, officials, and alluded to former Prime Minister Menachem Begin's 1981 decision to destroy a nuclear power plant under construction in Iraq despite Mossad's opposition.

Iran maintains that its nuclear program is strictly peaceful, and says it has a right to build enrich uranium under the Nuclear Non-Proliferation Treaty. Expert opinion is mostly unanimous that Iran is not close to being able to construct a nuclear weapon.