'US would give Israel unilateral support in Iran strike' – Romney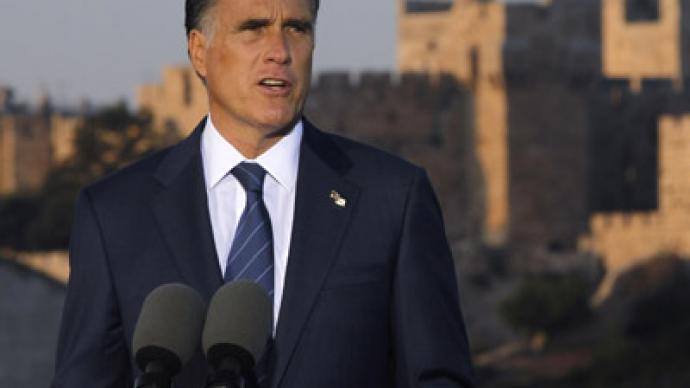 Mitt Romney says the US would back an Israeli military strike on Iranian nuclear facilities under his administration. The US will support "any and all" measures to allay Iranian nuclear ambitions, the presidential candidate stated.
"We have a solemn duty and a moral imperative to deny Iran's leaders the means to follow through on their malevolent intentions," said the presumptive Republican candidate, addressing a 300-strong audience in Jerusalem. Romney is on an overseas tour to gain international laverage ahead of this fall's presidentials. He added that the US should not delude itself into thinking that "containment is an option."Prior to the speech, one of Romney's aides told reporters that the presidential candidate would back a military strike against Iranian nuclear sites by Israel. "If Israel has to take action on its own in order to stop Iran from developing that capability, the governor would respect that decision," said Romney's national security aide, Dan Senor.Israeli PM Benjamin Netanyahu voiced his support of Mitt Romney, saying he "strongly agreed" with his statements and "it is important to do everything in our power to prevent the ayatollahs from possessing nuclear weapons."While Romney shied away from any direct criticism of his competitor for the White House, he emphasized the threat of nuclear Iran had only worsened over the past five years. He said that diplomatic distance between the US and Israel could only serve to "embolden" the country's adversaries. In an appeal to Jewish voters in the US, Romney referred to Jerusalem as the capital of Israel and said that it was the US government's long-term plan to transfer their embassy there from Tel Aviv. Romney is currently trailing in popularity among US Jewish voters with 28 per cent to Obama's 68 per cent according to a Gallup survey released on Friday. The Obama administration tries to avoid referring to the city as Israel's capital given that the Palestinians also envisage the city as their future capital.
Military support already underway?
The Obama administration has already briefed the Israeli government on plans for a possible military strike on Iranian nuclear facilities, reported an Israeli newspaper on Sunday, citing an anonymous US official.Israeli publication Haaretz alleged that National Security Advisor Tom Donilon had put forward the plans to PM Netanyahu earlier in July during his visit.A senior Israeli official speaking on condition of anonymity dismissed Haaretz's report as incorrect, while the US Embassy has refrained from commenting.Both Israel and the US claim that Iran is enriching uranium for the purposes of developing nuclear weapons. The Obama administration has thus far sought to discourage the Israeli government from military action, preferring to use economic sanctions to isolate Iran.The Iranian government dismisses these claims and maintains that its nuclear program is purely for civilian ends.
You can share this story on social media: