Ego building? NATO erects $1bn HQ as members slash military spending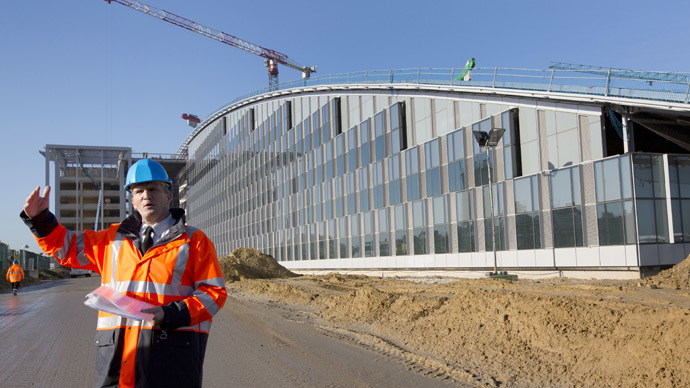 NATO is constructing a bold, new headquarters in Brussels, but the $1 billion project is raising eyebrows at a time of economic hardship and military spending cuts. It also suggests the Western military bloc is here to stay.
The sprawling steel-and-glass complex, which features four extending claw-like structures extending on both sides and a grandiose 105-foot-high (32 meters) entrance, will be headquarters for more than 4,000 NATO staff from the 28 member states starting in 2016.

Although the old NATO headquarters was built in 1967, and is said to have outlived its usefulness, critics are questioning the timing of the lavish new construction, coming as it does amid a deep economic crisis for many European nations.

"When defense budgets are being cut and in general when governments are under so much pressure from taxpayers to save money, it looks terribly extravagant," Daniel Keohane, head of strategic affairs at the FRIDE think tank in Brussels, told Reuters.

The timing of construction of the eight-floor structure, which contains enough blast-proof glass to cover 10 football fields, was "unfortunate," Keohane said.

However, NATO officials have defended the billion-dollar structure.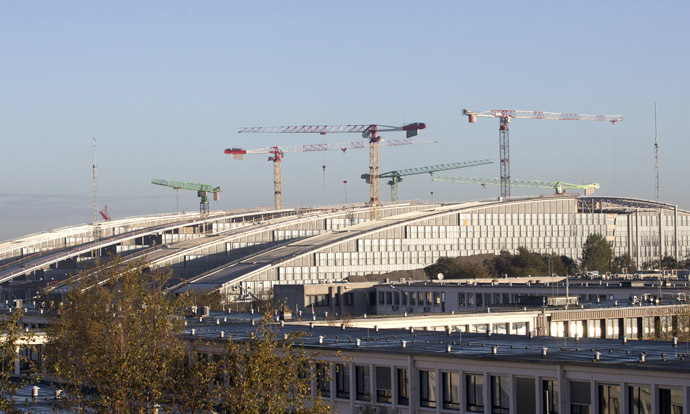 Matthew Klimow, a NATO deputy assistant secretary-general, said the new headquarters was "far from extravagant."

"It is a functional building that will allow us to say to the world that NATO is ready for 21st-century challenges," he told Reuters during a media tour of the new complex.

Klimow said the soon-to-be-abandoned NATO headquarters was designed to last for just a decade when it opened in 1967.

NATO alliance members have shared the expenses of the new complex at a time when many are being forced to cut key military capabilities - not to mention social welfare plans - due to a tight budget squeeze.

Construction of the new NATO facility comes at a time when the military bloc, originally conceived as a bulwark against Soviet power, has approached a crossroads.

NATO also faces questions about its future after it ends combat operations in Afghanistan at the end of next year.

What's next for the military bloc?
Construction of the new NATO facility comes at a time when the Western military bloc, originally conceived as a bulwark against Soviet power, has approached a crossroads in its history.
As NATO prepares to wrap up its decades-long military operation in Afghanistan, which was anything but a success, the Western military bloc seems hard-pressed to convince the world of its relevance as global conflicts have subsided.
Thus, the 28 member states have been spending their time, not to mention a lot of money, holding massive military games around Europe.
Last week, NATO concluded a two-week military exercise, dubbed 'Steadfast Jazz,' which involved more than 6,000 multinational troops. It was the largest NATO exercise and first live-fire drill the military bloc has held for seven years.
Next year, NATO will conduct yet another exercise, codenamed 'Trident Juncture' in Portugal and Spain, which is expected to involve the participation of some 40,000 personnel.
These expensive, large-scale military games are attracting criticism since they are happening amid an economic downturn that is forcing European governments to impose harsh austerity measures on government social programs.
At the same time, non-NATO member states, like Russia, are attempting to understand why the military bloc continues to press eastward without any discernible enemy on the horizon.
US and NATO, for example, have begun revamping a military base in Romania which will serve as part of the US-built missile defense shield in Europe. The system remains a bone of contention in US-Russian relations, with Russia saying it would upset the strategic balance in the region.
Moscow has demanded legal guarantees from Washington that missile defense systems deployed in Europe would not target Russia's strategic nuclear deterrence capabilities. Washington has refused to grant Russia such assurances, citing a need to protect Europe from 'rogue states' like Iran and North Korea.
Late last month, Russian Foreign Minister Sergey Lavrov said "missile defense remains a burning issue," adding that Russia's position is well-known.
"We are ready for a constructive dialogue with the US and NATO and are open to finding a compromise, but let's not pretend that there is nothing within the scheme of the American-led ABM that needs to be changed, nor that it's not against Russia, that all this talk can somehow settle things," Lavrov said.
Eastablished in 1949 in response to the rise of the Soviet Union, NATO never disbanded after the Soviet Union collapsed and the Cold War came to an end. Instead, it began to take in a number of eastern European countries, and currently it has made overtures to countries in Russia's sphere of influence, including Georgia and Ukraine.
NATO continues to oversee some 5,000 soldiers in Kosovo, as well as an anti-piracy mission in the Indian Ocean. It also has plans to field a dramatically reduced training mission in Afghanistan from 2015.

You can share this story on social media: