NATO discusses ground operation, Libya promises hell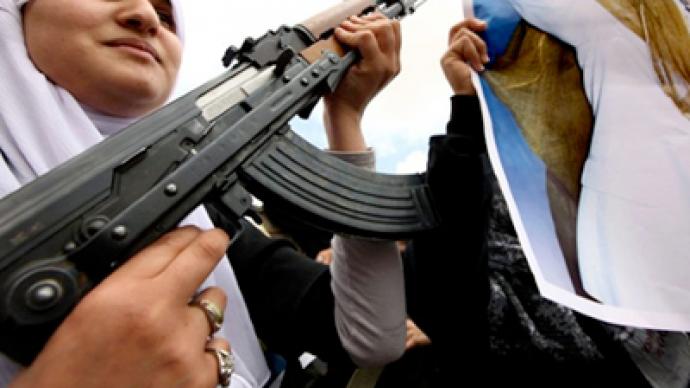 The aerial bombardment of Libya has reached a dead end, which has intensified talk among NATO members about a possible land operation, a move that threatens to escalate massively the violence that already exists there.
The alliance's spokesman has admitted there is still little sign of progress for either side in the conflict, so there is a need for a new UN resolution to approve sending foreign troops in. In the meantime, civilian casualties from allied bombing continue to mount as fresh NATO air strikes have been heard in the Libyan capital overnight. At a video conference with Russian students, a NATO spokesman revealed his organization's proposed solution: send in ground troops. "The UN Security Council should adopt a new resolution on Libya. Resolution 1973 does not envisage land operations. We need a new resolution," professed James Appathurai.Western forces planned that all along, says a leading US international law professor, Francis Boyle, of the University of Illinois."Clearly what we are seeing unfolding in Libya is a pre-existing war plan, by NATO, by the British, by the French, by the Americans to attack Libya," Boyle claimed."And now everything is going according to plan, which is why I believe that since they have failed to depose Gaddafi with their steps so far, the next stage will be moving into a ground invasion."NATO powers have duped the international community into supporting war, notes author William Engdahl. Protecting civilians was the claim, but grabbing the country's resources is their real goal. "This is one of the most brazen transgressions of rights of nation national sovereignty in international law we have seen in the post-WWII period," he said."The West: the US, France and Britain have been covertly – according to the evidence that is leaking out – arming the opposition to Gaddafi in hopes of grabbing control of the oil and different parts of Libya," William Engdahl insists.The Libyan government promises "hell" for NATO if it sends in ground troops. Some agree such a war may be tougher, than expected. "We will see increased military activity not only in the air but also on the ground and maybe this will solve the problem from the perspective of the NATO countries, but mayby we will simply get into a deeper imbroglio," shared Professor Mark Almond of Bilkent University.Bombing from 30,000 feet, coalition pilots feel fairly safe, but anti-war activists warn putting troops on the ground risks not just more civilian killing, but NATO deaths as well. "The further they get from hi-tech, the nearer they get to low-tech – the greater the danger of casualties on both sides," warns Jim Brann from the Stop The War Coalition.Turkey, China and Russia have all criticized the bombardment of Libya. Russia's Foreign Minister Sergey Lavrov thinks NATO's already gone far beyond the first UN resolution to maintain a no-fly zone. He hints a second resolution to move in ground troops may not come as easy, now several nations feel tricked. "If anybody wants to ask for this mandate, welcome to the UN Security Council. We will discuss, try to understand what is planned, because the digressions from the mandate that we are seeing now are enough to learn lessons," Sergey Lavrov railed.With international opposition on the rise, NATO states face an uphill task to make the case for more war. While Britain's prime minister ruled out ground troops, now his Defense Secretary Dr Liam Fox tells Parliament they plan exactly that. But UN members are angered at the number of civilian deaths from NATO bombing, and are unlikely to welcome an escalation of the conflict.
You can share this story on social media: