Moon's crust thinner than expected – NASA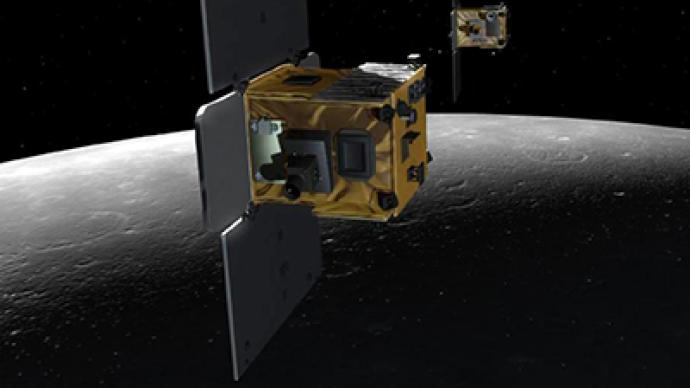 The Lunar surface is thinner than previously thought, NASA scientists revealed after a year-long mission to map the moon by two probes ended with a literal bang. The mission was dedicated to uncovering more about the formation of the solar system.
Two probes – nicknamed 'Ebb' and 'Flow' – completed a programmed crash at the end of their mission, revealing evidence that the Moon's crust is thinner than expected because of the damage the crash caused beneath the surface, compared to the surface itself. Scientists were also able to use the distance between the probes to determine more precise measurements of the moon's crust. Each probe was the size of a washing machine and flew as low as a few miles above the moon's tallest mountains. The probes were also tasked with drawing up detailed gravity maps of the moon. They reacted to more intense gravity areas by speeding up, and slowed down in less intense areas.The probes also took more than 115,000 images of the lunar surface, producing the highest-resolution gravity map of a celestial body in existence.Once the probes ran out of fuel, they were pulled towards the lunar surface and eventually crashed, as programmed, into a mountain near the moon's north pole. The crashes went ahead as planned at 22:28 GMT and 22:29 GMT, and occurred at a speed of 3,760 miles per hour (1.7 kilometers per second)."We do feel the angst about the end of the mission," the director of NASA's Jet Propulsion Laboratory in Pasadena, California, said. "On the other hand, it is a celebration because this mission has accomplished tremendous science."Their discoveries will help scientists better understand how the moon was formed and shaped, and may shed light on other planets in the solar system, including Earth. "Ebb and Flow have removed a veil from the moon," said Maria Zuber, the lead researcher at the Massachusetts Institute of Technology. The probes' crash site was named after Sally Ride, the first US woman in space. Ebb and Flow were launched in in September 2011, and had orbited the moon since January 1.
You can share this story on social media: