Single statue streaker stops central London (PHOTOS)
Published time: 23 Nov, 2012 19:56
Edited time: 24 Nov, 2012 00:00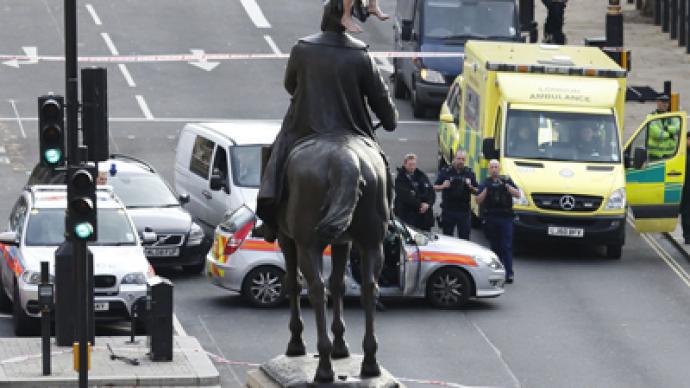 A naked man atop a bronze monument brought central London to a standstill for three hours, as police feared the statue straddler might pose a security risk.
Around midday on Friday, an inconspicuous man in his thirties or forties climbed up the statue of Prince George, the Victorian-era commander-in-chief of the British Army, located outside Whitehall, which houses the UK government and Ministry of Defence.
The man then braved temperature of 6 degrees Celsius to immediately take off all of his clothes.
He then struck a series of provocative poses, including climbing on top of the feathered bicorne worn by the distinguished general.
A response team of two fire trucks, four police cars, and four mounted policemen was immediately assembled.
Police blocked off the area within 100 meters of the statue, paralyzing traffic and forcing government employees to enter their buildings through alternative routes.
For three hours professional negotiators urged the man to climb down, until he eventually agreed.
As he dismounted, the climber appeared to break off a piece of the statue before waving it around triumphantly.
He was then detained under the Mental Health Act.
(AFP Photo / Justin Tallis)
(AFP Photo / Justin Tallis)
(AFP Photo / Justin Tallis)