Shock artist nails his genitals to Red Square cobblestone in protest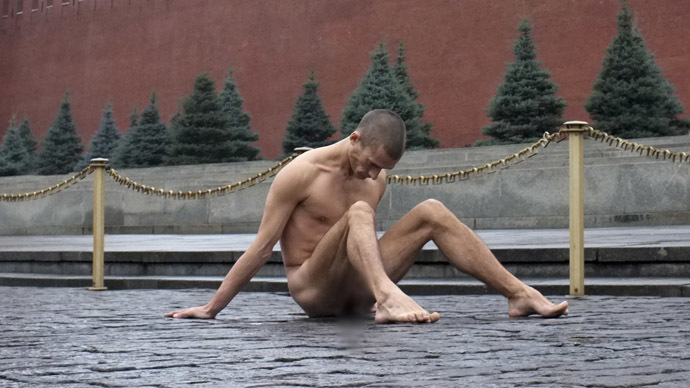 A Russian artist stripped naked outside Lenin's Mausoleum and nailed his testicles to a Red Square cobblestone in front of horrified passersby. It was a "metaphor for apathy, political indifference and fatalism of modern Russian society," he explained.
The St. Petersburg-based artist, Pyotr Pavlensky, was taken to police after being treated in a hospital. He could spend up to 15 days in jail as a standard punishment for hooliganism.

"It's not a bureaucratic mess that deprives society of its ability to act, but fixation on our own defeats and losses that nails us to the Kremlin's pavement stronger and stronger, creating an army of apathetic idols out of people, patiently awaiting their fate," Pavlensky said about the meaning of his latest Red Square protest meant to mark the annual Police Day holiday celebrated in Russia on November 10. 
The artist was detained on charges of disorderly conduct which included "explicit contempt for society accompanied by swearing in public, insulting harassment of citizens, as well as humiliation."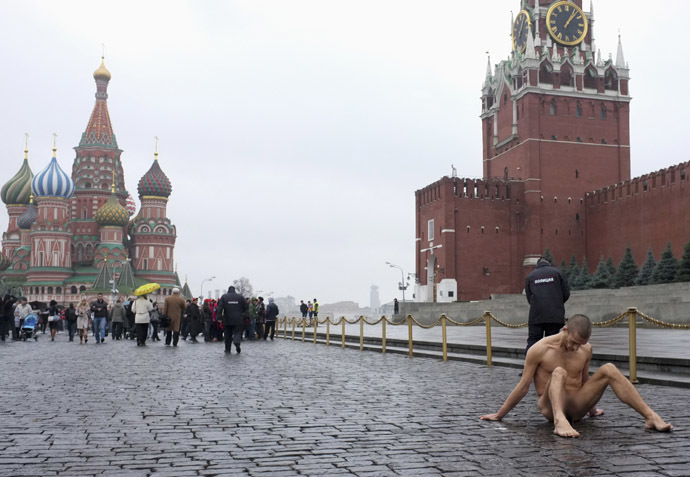 However, on Monday Pavlensky was released without an official statement. Moscow's Tverskoy District court spokeswoman Ekaterina Korotova told Itar-Tass the court  would not consider whether the performance artist had committed an administrative offense.

The police report of the alleged offense "lacked the description of specific intentional acts committed by Pavlensky," the court concluded.

After the report is corrected, law enforcement authorities may send the case back to court. The maximum punishment Pavlensky could face for disorderly conduct is 15 days in jail.

It's not the first time the 29-year-old has chosen extreme methods of protest. His name didn't ring a bell until last year when Pavlensky sewed his lips together to protest against the jailing of the Pussy Riot members who staged an anti-Putin performance inside a landmark Moscow cathedral.

Earlier this year, in May, Pavlensky was arrested after wrapping his naked body in barbed wire outside a Legislative Assembly building in St. Petersburg. He said his stunt stood for "human existence in repressive legal system where any movement causes a severe reaction of the law, which sinks its teeth into the body of an individual."

You can share this story on social media: